Potato Salad with Egg and Swede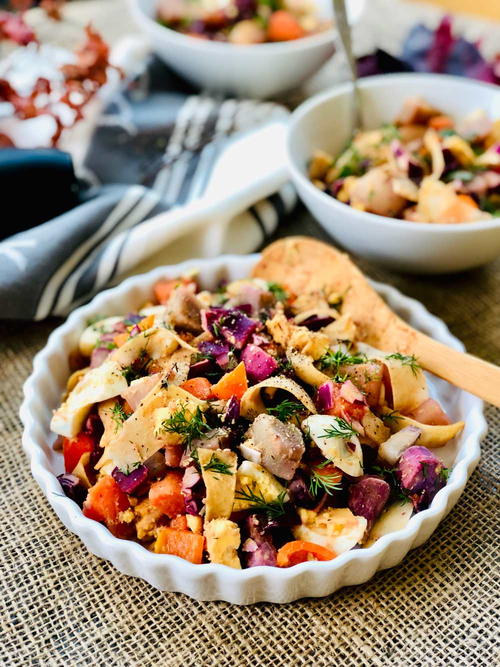 Potato Salad with Egg and Swede
"A salad like this four-potato, eggs and swede with red cabbage, peppers and dill always brightens up my day. The bottom line is that the potatoes and the eggs are a must not compromise on. If you dont have sweet purple potatoes or any other type of fancy ones simply use regular potatoes. A refreshing four potato salad which contains four types of potatoes, eggs, raw swede shavings and fresh herbs, a truly delightful meal fit for a king. Are you ready to tuck in? Delicious!"
Notes* Different potatoes have different cooking times. I suggest you put the sweet potatoes on top and pierce them with a fork to check when theyre ready. Take them out earlier if necessary. This is in the event you wish to boil them all in one place but of course you can boil them separateley. Check all potatoes to make sure theyre nice and soft inside but not too soft to fall apart.
Serves4
Ingredients
1 large sweet potato
2 purple sweet potatoes
2 medium purple potatoes
2 medium white/red potatoes
6 eggs hard boiled
1 large red onion
100 g swede
120 g red cabbage
3-4 springs fresh dill
1 tsp salt
Wash the potatoes thoroughly, place them in a pot, add boiling hot water (for quickness) and 1 tsp salt. Boil over medium heat for 12 minutes or so until nice and soft. * (see recipe notes). When ready allow them to cool for few minutes by taking them out on a plate. When cool, peel and cut into chunks. You can keep skin on if you prefer.

Almost simultaneously boil the eggs in a separate pan for 10 minutes with 1 tbsp salt. When finished boiling, drain hot water and add cold water. Leave them for 1 min and then peel.

While the potatoes and the eggs are boiling/cooling, prepared the vinaigrette by putting all the vinaigrette ingredients into a jar and shake well.

Shave the swede, chop the onion and the red cabbage, chop the dill. Place all into a larger bowl. Season well, add the olives if choosing to add. Add the roughly cut potatoes and the eggs. Give it all a good old stir.

Drizzle the vinaigrette and transfer to serving plates. Enjoy!
Your Recently Viewed Recipes