Capresso Ultima PRO Espresso & Cappuccino Machine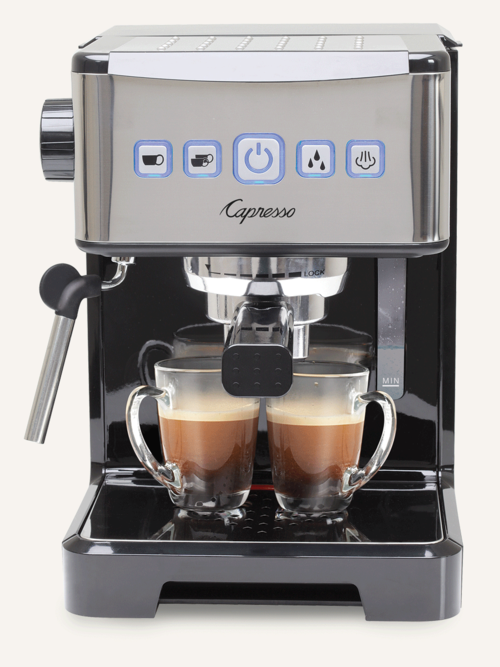 Capresso Ultima PRO Espresso & Cappuccino Machine
www.capresso.com
Reviewed by , Editor, AllFreeCopycatRecipes.com

Espresso machines can be daunting, but the results are well worth it. DIY your cappuccinos and lattes with the Capresso Ultima PRO Espresso & Cappuccino Machine. This stunning programmable pump espresso machine features several options for brewing absolutely delicious espresso. Making cafe quality coffee drinks becomes a breeze as you familiarize yourself with this fabulous machine.



The Ultima PRO is the ideal machine for making quality coffee drinks right at home. Rather than settling for an ordinary coffee maker or spending so much money at your local cafe each day, consider learning how to make your own espresso, cappuccinos, and lattes.



As a novice to making any drink other than ordinary brewed coffee, the Ultima PRO required some study before proceeding. One of the first suggestions you'll see is to read the entire manual before using your new machine. As with any new coffee maker, clean all removable parts and familiarize yourself with each element of the machine. One novice mistake I almost made was setting the cup below just one of the spouts instead of both of them. While you can place two cups underneath as pictured, espresso still drains from both spouts even if you are brewing just a single cup. Speaking of cups, this machine does not fit a standard mug; now is the time to invest in a short espresso or cappuccino mug if you don't have one already!



The compact and convenient design of this machine deserves some attention. Hardly taking up any counter space, the Ultima PRO features build in storage for the measuring spoon and sieve, plus a removable water tank for easy access. No loose parts need to be stored separately from this sleek machine.



Your manual includes tips for brewing the best espresso, which was so helpful for a novice DIYer like me. Meanwhile, coffee experts may even glean a thing or two from these helpful tips. For example, did you know that to ensure espresso stays at optimum temperature, you should preheat your cups? I never would have thought to try that! Capresso even recommends that you preheat the portafilter before the coffee grounds are added, too. Another recommendation is to make sure your coffee beans are ground to a consistency somewhere between flour and sugar. The reason is, "Too fine a grind will result in an espresso that is over-extracted and bitter. Too coarse a grind will result in espresso that is under-extracted and weak in flavor."



Those who are familiar with brewing espresso may be excited to learn that the portafilter on this machine tamps the grounds for you. No need to press them down yourself, although do make sure no grounds are left on the edge of the filter because that would interfere with tamping and even brewing. There is information about grinding your own beans for the best flavor in this manual, but you can use prebought grounds as well.



The milk frother is an exciting component of this machine that made for a delicious cappuccino! One editor said, "The milk froth adds a special touch that you just don't get out of a Keureg or old-fashioned coffee machines." This is so true! Capresso makes frothing milk easy with this machine. Be sure to clean the milk frother after each use those so it doesn't harden and dry inside.



I've hardly scratched the surface on all of the great qualities of this machine. Major takeaways are that this is a great DIY opportunity for coffee lovers, and the convenience as well as the compact and sleek design make the Capresso Ultima PRO Espresso & Cappuccino Machine an excellent appliance to add to your home kitchen.
Your Recently Viewed Recipes