How to Use Thanksgiving Leftovers
Fridge overflowing with leftovers? These Thanksgiving leftover recipes will help you use up those tasty treats in no time.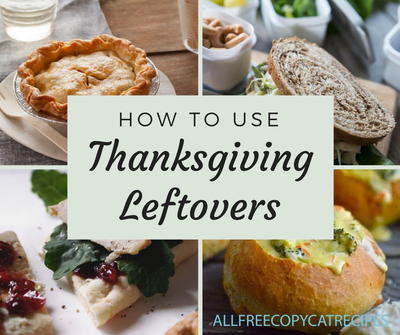 It has happened to all of us. Two days after Thanksgiving, you've still got more leftovers thank you know what to do with, and you're sick of having turkey again and again. That's where these handy tips and tricks for How to Use Thanksgiving Leftovers come in. Think outside the box, and you'll be able to come up with more recipes than you'll have time to make. Before you know it, your pounds of turkey and reserves of cranberries will be gone!
 
Whether you need some leftover turkey recipes or a clever way to put that leftover sweet potato casserole to work, these ideas will save you time and money, and they will prevent you from having to throw away all of that precious food! Thanksgiving really is one of the best food Holidays ever. Make the flavors and feelings of this magical day of giving thanks last and step up your thrifty copycat game.
Table of Contents
How do you use your Thanksgiving leftovers?
Your Recently Viewed Recipes