10 Entenmann's Copycat Recipes
Entenmann's crumb cakes, doughnuts, and more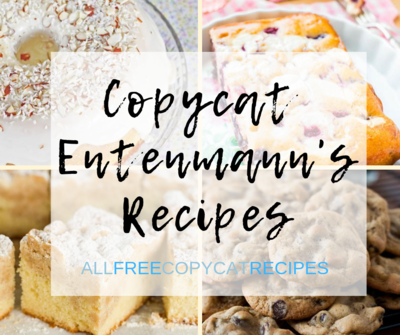 What does Entenmann's mean to you? Lazy Saturday mornings? Sunday potlucks? A relaxed snack after dinner or a rushed one on your way out the door? Whatever the case, your trip down memory lane will be delicious thanks to these 10 Entenmann's Copycat Recipes.

It's hard to live up to a combination of nostalgia and the collected experience of dozens of food scientists doing their best to design the most accessible, snackable treats possible. Still, these recipes are ready to rise to the challenge. Some try to be exact copies of the most delicious snacks in the Entenmann's product lineup. Others feel inspired to spin off into delicious new directions. All of them are delicious, and they'll absolutely give you that classic style and flavor you expect from the originals. 

Sign Up for More Free Copycat Recipes
Table of Contents
Entenmann's Crumb Cake Recipes
I don't know about you, but for many people, there's nothing more perfectly "Entenmann's" than their crumb cake. Perfect for any time of day and any occasion, you can never go wrong with this delicious snack. If you haven't fallen in love with this perfectly sweet and crumbly treat yet, you owe it to yourself to try one of these recipes.
Other Entenmann's Recipe
Honestly, Entenmann's just has too many delicious treats to put in easy categories. There are classics in here and some hidden gems as well. Of course, everything is delicious. Feel free to take your time, but definitely take your pick. Recipes this delicious deserve to be enjoyed!
Up next:
15 Copycat Cinnabon Recipes
Which Entenmann's items are nearest to your heart? Did you see them on this list? Let us know in the comments!
Your Recently Viewed Recipes