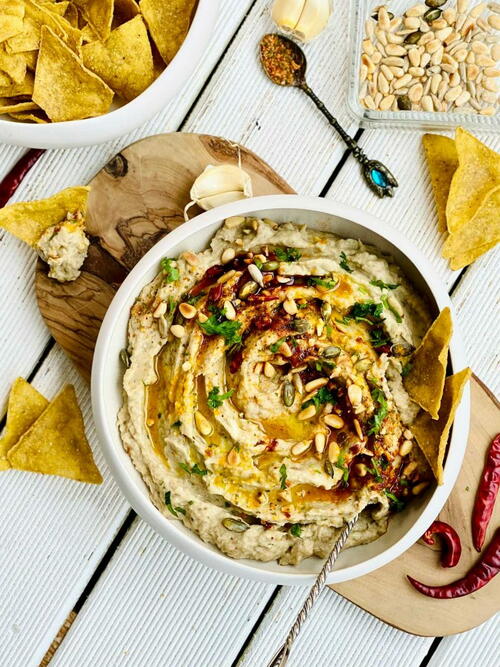 Creamy Eggplant Dip
"There are many eggplant dip recipes around and there is definitely a right or wrong way of preparing this roasted eggplant dip dish, all depending on tradition, custom or simply how you like it. What is certain is that this snack or a side is a Mediterranean dish that's prepared by many countries around the world and is loved by many. This mild taste and smooth consistency roasted eggplant dip is a great side dish that can be enjoyed any time and the whole family will love it. "
Serves4
Ingredients
4 large eggplants
1 medium red onion or regular onion
75 ml olive oil extra virgin
2 cloves garlic (small-medium) add more if you wish
½ teaspoon salt
¼ teaspoon black pepper * see recipe notes for alternatives
To garnish (optional):2 tablespoons olive oil
1 tablespoon paprika
2 tablespoons pinenuts
2 tablespoons fresh herbs parsley or coriander or cilantro
1 tablespoon mixed seeds toasted (optional) *
1 small red chilli (dried) or dried red chilli flakes
Ideally is to grill the eggplants (aubergines) on fairly powerful fire so that the flesh remains nice and white (See recipe notes for some tips) Pierce the aubergine a couple of times with a knife, then grill for approximately 15-20-25 minutes until blackened, softened and collapsing. Allow these to cool slightly.

With a spoon, scoop the slightly cooled insides from the aubergine straight into a food processor. Do this with all.

Peel and crush the garlic, chop finely both the garlic and the onion.

Place the scooped eggplant flesh into a sieve. Allow it to rest for 15-20 minutes so all juices run out.

Transfer the drained eggplant into the food processor and start blitzing adding the oil, a good and generous squeeze of lemon juice, a generous pinch of salt and black pepper. Taste and adjust the seasoning, oil and lemon as desired.

Heat up a pan, add 2 tablespoons of olive oil, paprika, mixed seeds (pumpkin, sunflower) and the pinenuts. Toast for literally 1 min tossing continuously and pour over the aubergine/eggplant dip.

Place the eggplant dip in a dish pour/ sprinkle over the toasted paprika and pinenuts mix on hot olive oil.

Serve with a good sprinkle of finely or coarsely chopped fresh parsley or coriander/cilantro. Best to serve with flatbreads, tortilla crisps or any homemade bread or sourdough.
Your Recently Viewed Recipes