Butternut Squash And Chickpea Curry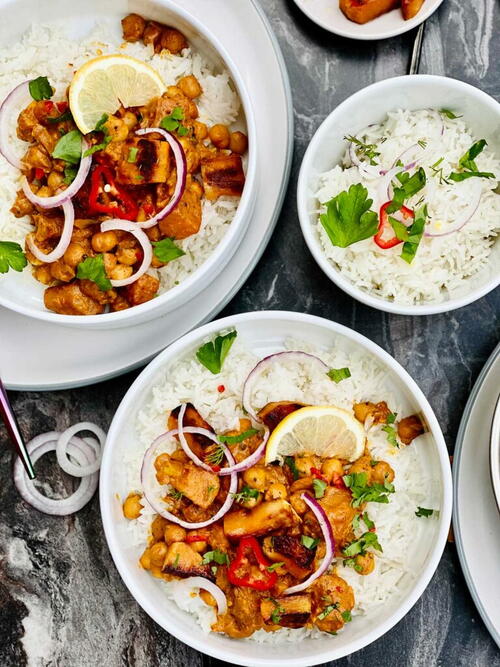 Butternut Squash And Chickpea Curry
"This is such a comforting vegan roasted butternut squash and chickpea curry dish in a full of flavour creamy coconut and tomato sauce. Perfect for cold autumn nights and ready in under an hour! This chickpea and squash coconut curry makes a fabulously healthy, vegetarian midweek meal. A vegan curry like this is popular all throughout the year, it is packed with goodness and amazing nutrients as well as super delicious. A truly comforting dish, this butternut squash and chickpea curry is an outstanding vegetarian or vegan dish that your family will absolutely love. Ready in just 25 minutes. "
Serves4
Ingredients
2 tablespoons coconut milk
400 g chickpeas (14.1 oz) precooked or 1 can
1 small butternut squash (2-3 cups) roasted
1 tablespoon olive oil or coconut oil
¾ teaspoon ground cumin
teaspoon garam masala
200 ml vegetable stock (6.8 fl oz)
1 teaspoon curry powder
1 teaspoon mixed seeds * see notes
¼ teaspoon turmeric
4-5 medium shallots or 1 med/larger red onion
3 cloves garlic
1 tablespoon ginger grated
⅕ teaspoon black pepper
1 teaspoon Himalayan pink salt
1 tiny piece cinnamon stick
6-7 leaves curry leaves
400 ml chopped tomatoes ( 14.1 oz) 1 tin
10 sprigs fresh coriander or parsley
Preheat oven to 200°C/400°F. Cut both ends, peel it and cut in half lengthways. Cut into roughly equal-sized chunks. Place on a large baking tray, drizzle generously with oil salt and pepper, toss and place in the oven for 35 min until soft through and getting brown on the edges.

In the meantime, start cooking the curry by adding coconut or olive oil to a large pan placed on medium heat. Add finely chopped shallots. Stir and fry for a few minutes then add crushed garlic and grated ginger. Cook for 1 minute or so.

Add all the spices - curry powder, garam masala, cumin, cumin seeds, turmeric, curry powder, curry leaves, cinnamon stick piece and chilli powder. Cook for 30 seconds until fragrant, add a little more oil or vegetable stock if necessary. It should not start to smoke.

Add the chopped tomatoes, coconut milk and vegetable stock. Bring to a gentle simmer and allow to cook for approximately 10 minutes.

Add the cooked chickpeas and cook for a further 5-10 minutes, it should have reduced and thickened by now getting a creamy and orange in colour.

Season with salt and pepper to taste. If you like it slightly spicier, add some extra chilli powder or flakes.

Add the roasted butternut squash, stir and serve! Leave some to add at the end.

Top with some chopped fresh coriander and/or a dollop of yoghurt and serve with basmati rice and your favourite/desired sides.
Your Recently Viewed Recipes