Cabbage Casserole with Beef Mince and Fresh Herbs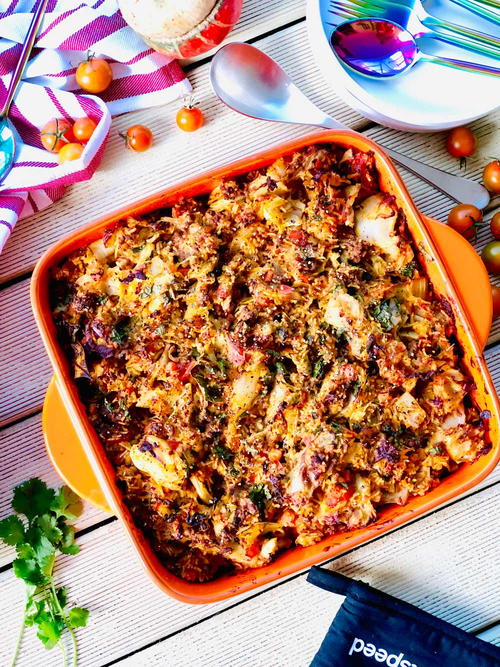 Cabbage Casserole with Beef Mince and Fresh Herbs
"How good are the traditional stuffed cabbage rolls? Exceptionally good, I know but the reality is that we don't always have the time to roll those beauties. For this reason only, I make this dish as a quick (yet just as tasty) version. I have to mention that, particularly around wintertime, this cabbage casserole with mince and rice is a real warming, comforting dish. We love it served with polenta on the side and a dollop of creme fraiche. Oh, so good!"
NotesI have mentioned a decent amount of cayenne pepper which is half a teaspoon but you can go for more or a lot less depending on your palette, spiciness tolerance, and threshold.

If you're using fresh cabbage do go-ahead and squeeze half a lemon or even one lemon over it towards the end, but if you use sour cabbage there is no need for lemon juice.

Same with the salt- if you are using fresh cabbage you will need to season and add plenty of salt when blanching the cabbage but if you are using sour cabbage you might have to roughly chop it and put this into cold water for a good 1/2h to 1h prior to cooking it in order to de-salt it as this tends to be quite salty.
Serves6
Ingredients
1 medium cabbage fresh or sour -roughly chopped
400 g mince beef *
200 g lardons or smoked bacon
2 onions
1 carrot
1 celery stick
2 tbsp olive oil * optional
2-3 cloves garlic finely chopped
1 tbsp tomato paste dissolved into 150ml lukewarm water
120 g rice well rinsed/washed
Instructions
Preheat the oven at 180°C or 375F. Prepare a 28x28cm ovenproof ceramic dish.

If using fresh cabbage start by chopping the cabbage roughly and blanch it in boiling water for about 5 to 10 minutes with 1 tbsp of salt for extra taste. (please see recipe notes for more tips) * I like it crunchier so I only blanch it for 5 min.

In a deep pan placed over a medium heat add the bacon or lardons, chopped onions, carrot, celery, pepper and the bay leaves. Cook for about 2-3 min.

And the ground/mince beef and cook for a further 2 minutes stirring occasionally until the beef is no longer pink. Add the rice and cook for a further 5 minutes. Add some water as needed, approximately 250ml/2 cups).

Add the garlic tomato paste, chopped tomatoes, 1/2 of the fresh or dry thyme, season well and cook for a further 4-5 minutes.

Mix in the blanched cabbage, cayenne pepper, parsley and remaining thyme, mix well and transfer it into the oven dish. Try and fish out the bay leaves now. They would have given their bit of flavour by now.

Bake in the oven for about 30 minutes at 190°C /375F. When you're ready take out and enjoy with a drizzle of lemon juice over for some crème fraîche. Enjoy!
Your Recently Viewed Recipes