Easy Prawn And Chorizo Pasta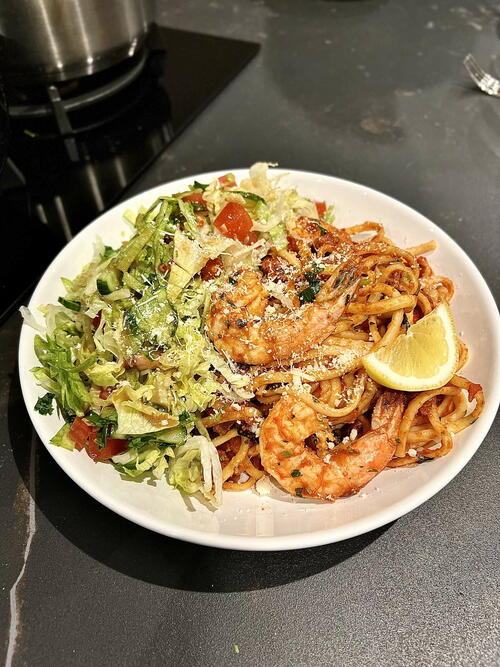 Easy Prawn And Chorizo Pasta
"This dish is a simple prawn and chorizo pasta with king prawns, linguini pasta seasoned with garlic, salt, pepper, and some chili flakes for an extra kick. This quick and easy pasta dish will make your family so happy! It's absolutely delicious and it takes very little time to prepare, making this the perfect midweek meal. Dinner will be ready in 20 minutes! Easy prawn and chorizo pasta recipe with fresh linguine pasta, prawns, chorizo, and seasoning. Simple midweek meal, that perfect quick and easy pasta dinner everyone will adore and be impressed. Ready in just 25 minutes which is quicker than a takeaway!"
Serves4
Ingredients
500 g fresh linguine (if you do not have fresh pasta see notes)
300 g prawns (shrimps) shelled and deveined
200 ml tomato juice
150 g chorizo sausage I used organic spicy version (diced)
3 cloves garlic
2 large fresh tomatoes
1 medium red onion
1 tablespoon tomato paste
1 cup fresh parsley 15 medium sprigs
½ teaspoon chili flakes
¾ teaspoon salt
In a large add water, boil the pasta as per package instructions. Once the pasta is cooked, drain water but reserve one cup or so of that boiled pasta water for later use.

While the pasta is cooking, heat a pan over medium-heat, add the chorizo and the diced red onion, cook for 2-3 minutes. Gather the extra fat released by the chorizo if you wish (*see recipe notes below)

Add the chopped/minced garlic, the chopped fresh tomatoes and the tomato paste and toss around for 1-2 minutes. Add a drizzle of the retained water if necessary.

Add the prawns and cook for 3 minutes tossing them until cooked to perfection. Do not overcook them as they will become chewy.

Once the prawns have cooked, remove them from the pan and set aside.

Add the chili flakes the tomato juice and the remaining pasta water and season with salt and pepper. Cook for 5-6 min until it reduces to a nice consistency and gets a nice color.

Add the fresh parsley (keep some to sprinkle over), mix and bring in the cooked linguine. Mix and cook for 1 minute.

Add the prawns, mix and serve immediately with a drizzle of lemon and a generous sprinkle of parmesan and freshly chopped parsley.
Your Recently Viewed Recipes