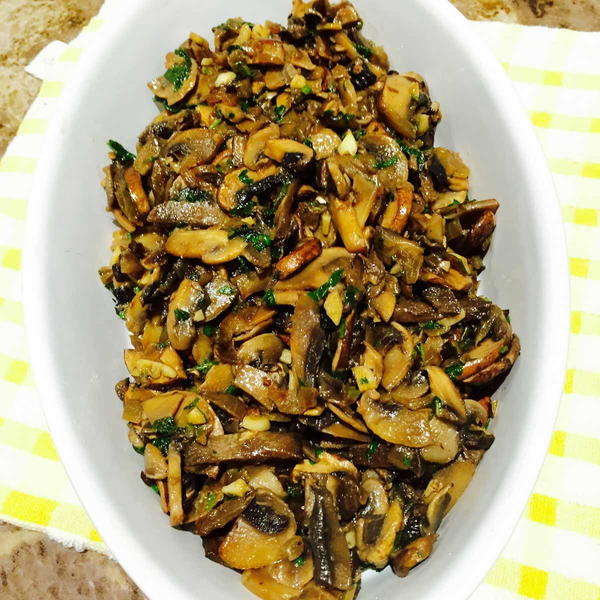 Garlic Infused Mushrooms
"These garlic "infused" mushrooms will take literally minutes to prepare and are truly delicious. I make this as a side to any meat and I don't know why but we particularly like this as a side to beef, a perfect combo. I also choose to cook the chestnut type of mushrooms, I like them more than the white ones, sometimes I also go for oyster mushrooms. Lets get cooking this delicious hocus pocus super easy garlic infused mushrooms."
NotesAdd as much or as little garlic and pepper as you may like - they can be a little spicier if you enjoy that especially when this is a side to meat.
Enjoy these super yummy garlicky mushrooms!
Serves2 People
Ingredients
500 g chestnut mushrooms (organic)
1 large garlic clove
1/2 tbsp olive or coconut oil
1/4 tsp turmeric powder
1 pinch himalayan salt (pink)
pepper (to taste)
parsley (to garnish)
Wash the mushrooms thoroughly and chop them into desired size.

Place a nonstick pan over medium heat and put in the chopped mushrooms with some salt, freshly ground pepper and turmeric powder. Cook for about 12-15 min until water has all run out.

Crush and chop the garlic, add it to the mushrooms along with the olive or the coconut oil and cook for further 2 minutes tossing occasionally.

Remove from heat, sprinkle some parsley on top, crush some pepper and enjoy.
Your Recently Viewed Recipes