Homemade Horseradish and Roasted Beetroot Relish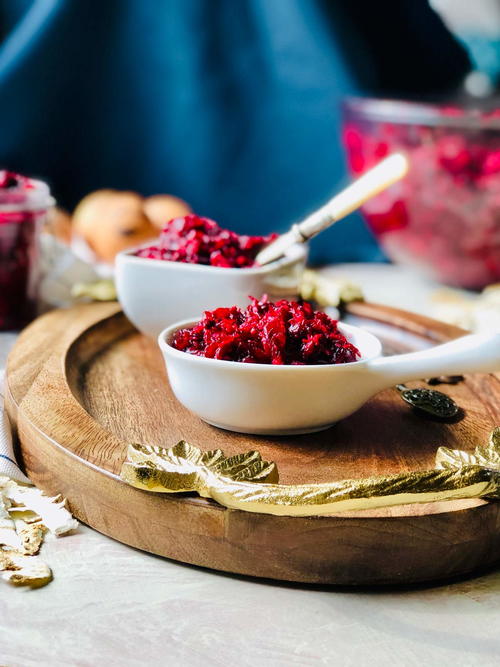 Homemade Horseradish and Roasted Beetroot Relish
"This horseradish and beetroots relish is the taste of Easter for me. It always was and still is an Easter staple. No Easter was the same without this relish. So good to accompany the traditional oven roasted lamb that was melting in your mouth which cooked with loads of herbs and wine. Mmmmm. Very nice! There is nothing like this homemade horseradish and beetroots relish, colour, flavour nor taste! Simply an amazing relish to use with your desired roast, sandwich or any breakfast eggs. "
NotesI used to grate the horseradish but I no longer do that. I've learned my lessons. I now put it all in a blender and the whole operation it's very quick and takes place outside.
Serves60

Ingredients
200 grams horseradish root
600 g beets cooked – best baked
150 ml cider vinegar
30 ml honey or maple syrup
1 tsp salt
1 tsp black pepper freshly ground
Instruction
Peel, wash and cut the horseradish root into chunks. Place into a food processor and give it a good few pulses until it will look like rice grains or even smaller. You may also use a grater (small holes) too. Place into a larger bowl. Cover so it will not make you cry any further.

Grate the beets, I normally use grater on food processor to do them but grating them manually is also super easy and quick option. Place in the same bowl with the horseradish.

Mix the beets and the horseradish together along with the remaining ingredients, the cider vinegar (150ml), honey or maple syrup (30ml), salt and the freshly ground black pepper. Mix all well using a wooden spoon until nicely homogenised.

Have handy the sterilised jar and transfer the relish pressing nicely to make sure there are no visible air pockets.

Keep in the fridge and use as you fancy.
Your Recently Viewed Recipes