Linguini Pasta With Clams And Squid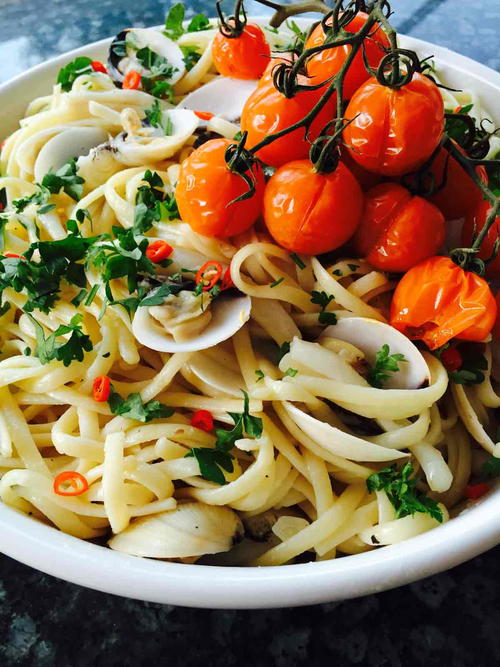 Linguini Pasta With Clams And Squid
"This linguini pasta with clams and calamari is very simple to prepare, it's an absolutely divine dish to enjoy. This pasta is a quick meal suitable for lunch or dinner, a quick recipe for a quick meal. We all get pretty excited and ecstatic about this awesome combination of pasta and seafood. ? There is no better outcome than just preparing a tasty dish in a flash and impressing your taste buds in an instance. Seafood pasta accomplishes that, every time… Do you cook pasta often? When did you prepare a clams and squid pasta last time?! Here it is. A great dish idea to try!"
NotesThe pasta
It's best to cook and immediately serve this pasta, but if preparing for later meals, add some olive oil (1-2 tbsp) to the pasta so it doesn't stick.
Also if you need to reheat pasta, try 1-2 minutes, anything past that results in an overly cooked pasta.
If you intend to eat this seafood linguini pasta later on, (right after boiling) quickly rinse the pasta in cold water:
1 - to bring down the temperature of the pasta, full control; 2 - to rinse the extra starch which would normally make it stick.
The squid
If this is fresh you only need to cut it into strips or rings, however you may like.
If you buy frozen squid, defrost it for at least 1 hour before preparing, so that it doesn't release too much water when cooking it.
The clams
These can be replaced (if you cannot find them in local stores) by fresh or good old smoked salmon.
Serves5
Cooking MethodPressure Cooker
Ingredients
500 g pasta linguine (dry)
300 g squid (cut into strips)
2 packs clams (pre-cooked)
30 g butter
100 g double cream
3 cloves garlic
1 tsp salt
1/4 tsp ground pepper (black)
15 springs parsley (fresh)
1-2 red chili (fresh) (optional)
1 pinch chili (dry) (optional)
2-4 tbsp olive oil
1/2 lemon juice
baby tomatoes (on vine) (baked)
Instructions
Cook pasta according to the pack instructions.

While pasta is cooking, place a deep frying pan (oak style) on medium heat. Add the olive oil, butter and peel the garlic if not done so already.

Add the finely chopped garlic to the hot oil one pinch of dry chilly flakes (if decided to put in so you use either the dry one now or the fresh one at the end). Cook for literally 30-40 seconds and then add the very well drained squid. Cook for 2-3 minutes and then add the cream followed by the clams. Cook for a further minute. Please do use all the juices that clams come with.

Put pasta in, mix well and serve with the freshly chopped parsley, the chili and/or the baked tomatoes followed by a good old squeeze of fresh lemon.
Your Recently Viewed Recipes