Chicken Curry on Spinach and Coriander Rice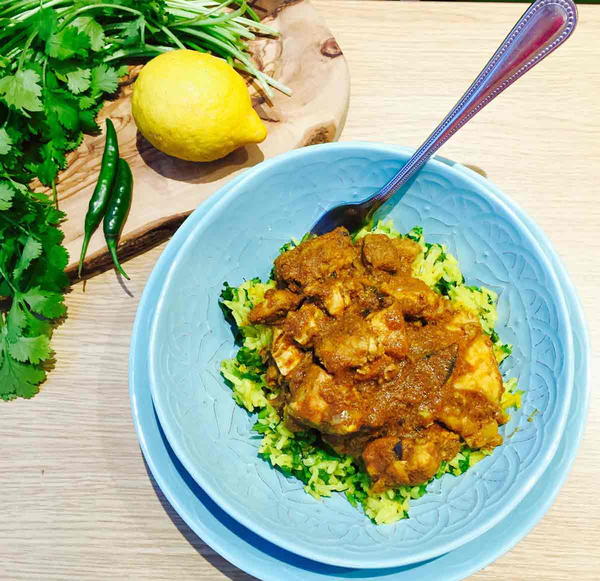 Chicken Curry on Spinach and Coriander Rice
"I am not exaggerating a bit by saying that curry is at the top of the list of foods that I love eating and also preparing. Curries are so tasty, so healthy with all the exotic and extremely healthy spices such as turmeric, curry leaves, and the abundance of seeds which I will be telling you more about in a minute… but above all it is so easy and quick to make – it is just amazing and always so exciting!"
NotesI use a seed mix of cumin, fennel, mustard, fenugreek, black sesame, and about 10% caraway seeds. You can buy those separately in any Asian or even supermarket or a good wholefood online or specialized spices store. Buy and mix in pretty much equal quantities apart from caraway ones. Of course, you can mix and match them as you wish and if there is any flavor that you don't like, just leave it out and this is the beauty of this as you create your own best-liked mix.
Serves4
Ingredients
For the curry:650 g chicken meat (organic) mixed parts with bone
1-2 tbsp curry powder
1 medium onion (organic)
1-2 green chili
1 tsp ginger (organic) freshly grated
3 cloves garlic (organic) crushed and chopped
3/4 tsp mixed seeds ***
1/3 tsp turmeric powder
5-6 curry leaves (fresh or dry)
1 can chopped tomatoes (organic)
Instruction
Cook the rice according to pack instructions and 2 minutes before being ready add the chopped fresh spinach or chopped cooked frozen one along with the coriander. I normally cook those together separately with a little ghee or cocconut oil for a couple of minutes in a different pan and add to the rice and mix at the end.

Meanwhile, in a pot, placed on a low fire, add the chopped onion, a little oil if you wish, if not a 50 ml water, the mixed seeds, a little salt, half of the garlic, curry leaves, some crushed black pepper, the green chili cut into halves and the turmeric powder. * Coming back to oil, I never add any oil to any meat curries as I do not think it is necessary since all meats have their own fat which is sufficient for taste. But you feel free to go the traditional way of doing that initial fried onion style by adding as much oil/ghee/coconut oil as you wish and fry the onion for a good few minutes until brown or almost caramelized. It is entirely up to you.

Add the meat and stir for a little while, then add the chopped tomatoes, the tomato paste, the remainder of the salt a small amount of water although the meat might still have some water from washing it and that may be sufficient so the curry will become too watery. Cook covered for 10 min and then uncovered for another 10 min.

Towards the end, add the ginger and the remainder of the garlic along with the cumin powder and cook for a further 7-10 min uncovered. At this point you can judge if you want any little water added to it but I gather there is no need.

When finished cooking, serve while hot on the rice which has been cooked and mixed with the coriander and the spinach. If you have any left over curry, do not worry but rather be happy as the next day it tasted even better!!
Your Recently Viewed Recipes