Vegetarian Cauliflower Soup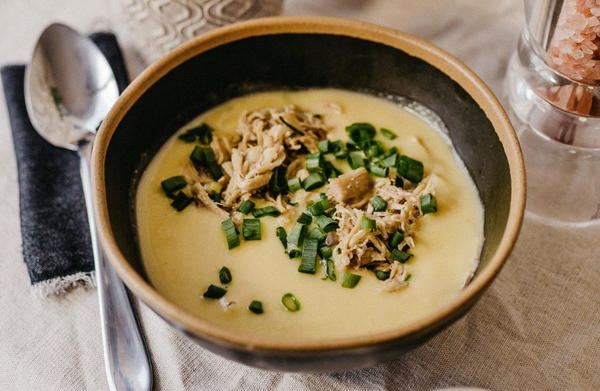 Vegetarian Cauliflower Soup
"This creamy soup is easy to make and super delicious. It's also a low-carb dish. You'll love it. You can top this soup more typical toppings such as croutons or crackers. But fried tofu and roasted chickpeas would also be nice in it. In the simmering process, you can add star anise, to add some additional herbaceous notes too. For the wine pairing, this vegetarian soup can be paired with white or rosé wines. But, our suggestion is rosé. These rose wines resemble the flavors of light red wines but with a crisper taste. "
Serves10
Ingredients
1 head of cauliflower
3 tablespoons olive oil
2 ounces white onion
4 cloves garlic
3 cups vegetable stock
2 cups almond milk
2 sprigs Rosemary
Salt and Pepper to taste
Instructions
Begin by prepping the cauliflower. Remove the outer leaves and trim off the stem. Quarter the cauliflower and roughly chop the florets and then thinly slice the core.

Heat oil in a large stockpot over medium-high heat. Add the chopped onions and saute until translucent.

Add in the chopped cauliflower, vegetable stock, garlic, and rosemary, and stir.

Bring to a boil and, then back off to a simmer for 20 minutes.

Remove the rosemary sprigs.

Using an immersion blender, puree the soup until smooth.

Stir in the milk, simmer for 2 minutes.

And season with salt and pepper.
Your Recently Viewed Recipes