Buffalo Chicken Bites with Spinach and Blue Cheese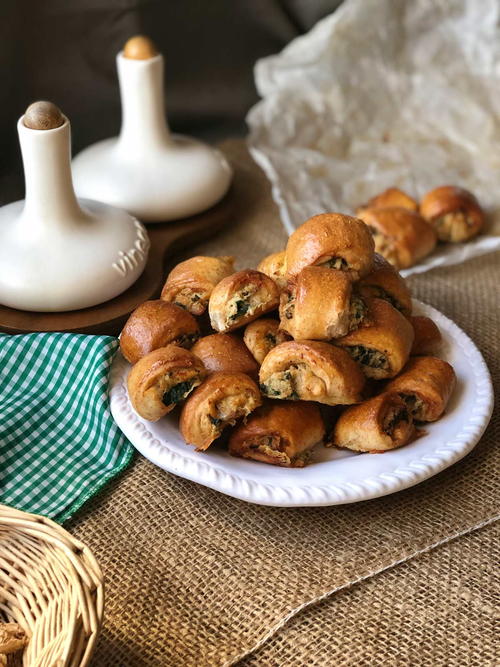 Buffalo Chicken Bites with Spinach and Blue Cheese
"These little cute Buffalo chicken bites are definitely a delicious snack to make, perfect for for parties and entertaining. They will disappear in seconds. Last time I made them I took some at work and the guys absolutely loved them. I felt bad I didn't take a few more but next time I will. These chicken bites are pretty easy to prepare and if you want to make the dough from scratch will take a little bit longer but so worth the effort."
NotesAdd more spicy sauce or some chilli flakes to make spicier.
The blue cheese should not be the creamiest one as it's nice to get a crumb or two of it but if you would like just the flavour from it you can go for the creamiest one. Dough should be left to rest twice for at least 20 min in a warm place.
This came out quite dark because of them flower used but if you use white flour they will come out a lot more pale. I was mentioning that you could brush them at the end with some melted butter just to get a nice shiny look.
If you rather skip the extra butter, just like I did here in this recipe I have just egg washed them before transferring them in the oven. They will just look glam.
Serves6 People
Ingredients
For the filling: 280 g of chicken cooked – shredded
95 g of stilton cheese any blue cheese
25 g of shredded grana padano or Parmesan cheese
1 tbsp of barbecue sauce optional
4 tbsp of hot sauce Sriracha or Franks red hot
75 g of spinach fresh 70 g cooked weight
For the dough: 340 g flour I used white strong organic
210 g flour wholemeal I used organic
450-500 ml whole milk organic lukewarm
1 tsp salt
Instructions
Start by making the dough and for this you will need to mix all the flour types into a big bowl together with the salt and the pepper. Give it all a good mix to homogenise these. Make a well in the middle and set aside.

Into a mug or a little bowl, mix the yeast with the sugar and some of the warm milk or warm water. Mix until the yeast and the sugar have dissolved. Pour this into the well and set aside for a good 10-15 minutes until the yeast starts to bubble. I've noticed that when I use water it bubbles quicker than when I use milk.

While waiting for the yeast to bubble up, shred the chicken into a bowl add the stilton cheese the grated Grana Padano the barbecue and the hot sauce. Mix all well and set aside.

When the yeast has bubbled up and it's all ready to work with start kneading the flour, salt, yeast with the milk forming a nice dough. Knead for a good few minutes until the hand is dough clear and then set aside. Add some oil to the dough and form into a ball. Cover with cling film and a kitchen towel. Allow to prove for a good 20 min to 1 hour depending on the temperature and the ambient. I always place the dough in a warm/sunny corner of the kitchen.

Preheat the oven at 190C or 400F, line a larger baking tray or baking sheet with parchment paper and set aside. Make sure the oven rack is somewhere in the middle for best results.

Take the dough out onto a floured surface and cut it into 4 to 5 equal pieces. Roll and stretch each piece forming a 25–30 cm (12in) long rope-like looking piece of dough.

With the help of a rolling pin shape the rope looking dough into a rectangular piece. Do one by one. Helping yourself with a little teaspoon and a fork, take a little by little the filling and spread across the whole length of the rectangular strip, more towards one side leaving a gap on the edge.

Fold the dough rolling and overlapping slightly the edges. Do the same with remaining three ropes/rectangular stips. Cut the ropes into approximately 11-12 pieces (less if you want them larger). See pictures in recipe notes below.

Transfer all buffalo bites as you cut to the prepared tray/sheet leaving a finger wide space in between. Bake at 180C/375F for about 20 min or until nicely browned on top. (Mine look darker because I've used wholemeal flour but also I do like everything I bake well done. I like a bit of colour.

When ready remove from the oven and feel free to brush them with some melted butter just before serving, Yummmm!
Your Recently Viewed Recipes