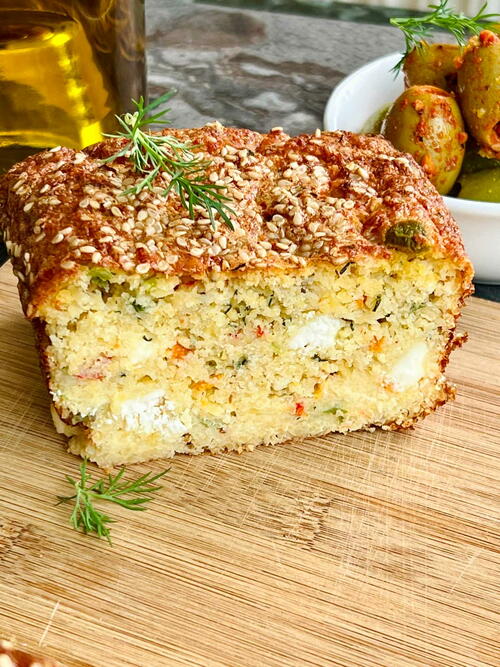 Healthy Lentil Bread
"I make this all throughout the year, it is fantastic for a work snack, work lunch, working from home quick lunch, to take to a picnic, garden party or in a container to snack after gym. These are just a few ideas. This lentil bread only needs a few ingredients and makes that perfect snack, working from home lunch, work lunch or picnic that you can just grab and go. Nutritious, packed with protein and super delicious. A true Wowzer! "
Serves12
Ingredients
2 cups red lentils dry quantity
200 g feta cheese made into crumbs
10 sprigs dill fresh
6 spring onions / scallions
1 cup Greek yoghurt go for any 5% up fat
1 handful olives chopped
4 medium eggs or 3 large
1 pinch chilli flakes
50 ml olive oil 5-6 tablespoons
1/4 teaspoon black pepper freshly ground
1 teaspoon soda bicarbonate (small teaspoon) 1/2 U.S. teaspoon *
1 teaspoon baking powder
100 g cheddar cheese grated
2 tablespoons sesame seeds
Wash and soak the red lentils for at least one hour. * See Recipe Notes for more

Sieve the lentils once soaked (no need to rinse) and puree these in a food processor.

Transfer the pureed lentils into a bowl and add the eggs, soda bicarbonate, baking powder, yoghurt, olive oil, black pepper and salt (if adding any). Mix well until homogenised.

Prepare two small bread loaf baking trays by greasing those with some butter or olive oil. Pour in the tins equal amounts the mixture. Sprinkle one tablespoon of sesame seeds on each loaf.

Transfer to the oven and bake for 35-40 minutes until golden brown.

Serve warm or cold as a snack or a main with a salad as a side. See other serving suggestions above.
Your Recently Viewed Recipes