Veal Steamed Dumplings (Dim sum)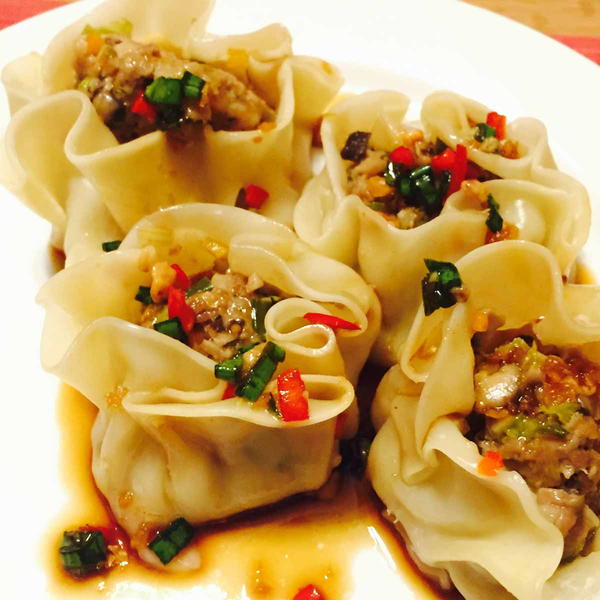 Veal Steamed Dumplings Dim sum
"Steaming is a really healthy way of cooking in general and these dumplings are super healthy and simply delicious. They can, of course be made pot-stickers by closing them rather than leaving open and then fried into a little vegetable oil. They are delicious whichever way you choose to cook them. These dumplings can be made in advance and easily frozen and steamed whenever needed. Just freeze them on baking paper individually before transferring into a bag to avoid sticking."
NotesThere might be some meat mixture left, I always make some without wrappers. Shape meat into meatballs and just steam as you steam the wrapped ones but maybe for shorter time.
Serve with steamed tatsoi and some soy sauce and red chillies . Superb!
Enjoy!
Serves4
Ingredients
500 g mince veal
1 pack wonton wrappers (25-30 pieces)
100 g shiitake mushrooms
3 spring onion
1/2 carrot (optional) grated
2 tsp Sesame oil
1/4 tsp salt
1-2 pinches white pepper (ground)
2 red chilli
10 springs coriander
Instruction
In a larger bowl mix the mince meat, finely chopped spring onions, carrot if you decide to go for it, shiitake mushrooms, garlic, red chilli, coriander, half of the ginger, the hoisin sauce and half of the sesame oil, salt, white pepper. Mix well and set aside. Leave a pinch of the chopped spring onion and red chilli for serving sauce.

To make the dumplings place the wrappers on the work surface. Take one by one and spoon some meat mixture, approximately one spoonful into the middle of each wrapper. You could close them if you want but I like them opened.

Place the dumplings into the steaming dish and steam for 30-40 minutes. I always deep the bottom of the dumplings into a little sesame oil to avoid sticking.

For the serving sauce mix the soya sauce, the remainder of the sesame oil, ginger, hoisin sauce a pinch of the spring onion, coriander, finely chopped red chilli, the sugar, vinegar and sesame seeds if you like.

Serve while hot. Remove from steamer while hot to avoid sticking.
Your Recently Viewed Recipes