Pasta Bataka | Pasta Potato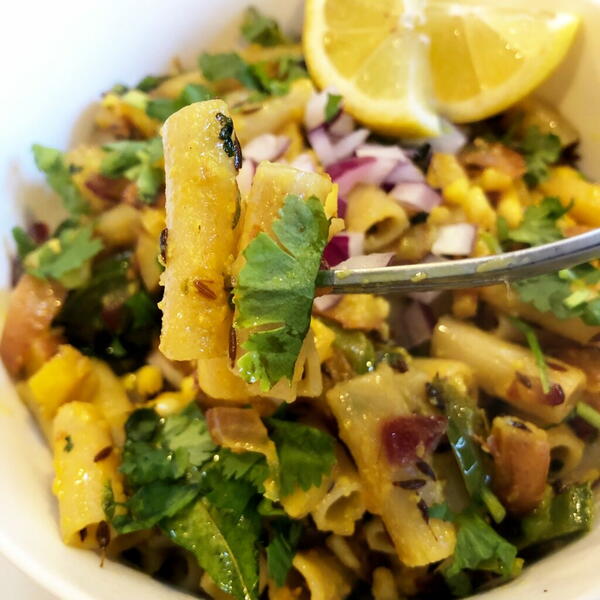 Pasta Bataka Pasta Potato
"This is a variation of a popular Indian Dish known as Poha Bataka (potato) or vice versa. Poha is flattened rice used in various different recipes, and this being one of them. A warm dish that can be made for breakfast, brunch, or even a snack. It has both spice and a zesty tang that can be satisfying on many levels. In addition, chewy pasta adds a perfect touch! Instead of using the flattened rice, I use pasta. Brown Rice Pasta to be exact and the end result is mouth-watering."
Serves6
Ingredients
16 oz package of pasta, cooked drained and rinsed
2 cups finely chopped potato
2 cups finely chopped onion
1 large lemon's juice
2 tbsp garlic
2 tbsp ginger
15 count curry leaves
1 tbsp cumin (jeera) seeds
1 tsp asafoetida (hing)
1/4 cup peanuts or almonds, roughly chopped/crushed/grinded
1 tbsp sugar (optional)
2 tbsp sesame seeds (optional)
2 tbsp golden raisins (optional)
8 cashews, whole (optional)
red chili powder (optional)
chopped cilantro leaves and stems
Heat oil in a pan. Once heated add cumin seeds and allow them to roast. Once they pop and turn semi-brown add hing, then immediately add chopped potatoes and cook for about 2 minutes.

Add onions, curry leaves, chopped chilies, raisins, garlic, and ginger. Cook until the onions are translucent.

Add peanuts/almonds, cashews, raisins, sugar, lemon juice, and red chili powder (optional). Cover the pot with a lid and now cook on low for about 2 minutes.

Mix the contents and now add the cooked pasta and sesame seeds to the pot. Be sure to add a generous amount of oil.

Cover and cook for 2-3 minutes while stirring a few times to prevent sticking.

Top with cilantro, finely chopped onions, finely chopped green chilies, and lemon.
Your Recently Viewed Recipes