Healthy Mongolian Chicken Takeout Copycat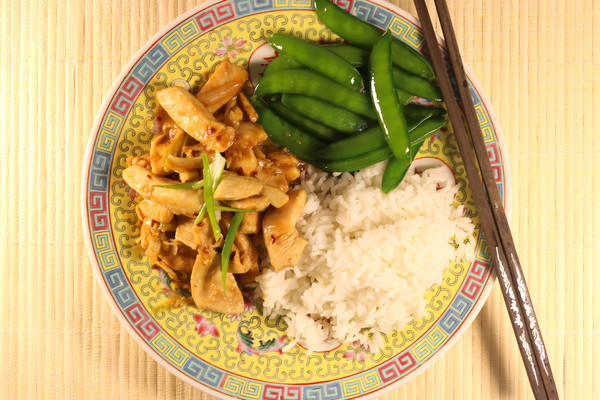 Healthy Mongolian Chicken Takeout Copycat
This copycat recipe is not only delicious, it is also a healthy version of the popular takeout dish. Chinese takeout is great, but it can be full of ingredients that aren't very good for you. This great recipe substitutes healthier choices for many of the ingredients without losing any of the great flavor that makes Mongolian Chicken such a popular takeout dish. This takeout chicken entree is loaded with delicious flavors and spices, such as ginger, red pepper flakes, and sesame. The Mongolian sauce is amazing. you've never had a takeout copycat recipe this good, so make sure to try it out right away.
Notes
This is a typical stir fry which uses many Oriental ingredients. They are easily available, inexpensive and last for a long, long time on the pantry shelf, so don't be afraid to buy them and use them in any dish when you want to add an Asian flair.
All of the ingredients should be prepared and sitting close at hand before the pan begins heating. Once you begin to stir fry, the whole process takes only 5 minutes before it is ready for the table.
Serves4
Ingredients
2 tablespoons low-sodium sow sauce
1 tablespoon cornstarch
3 boneless skinless chicken breasts, cut into 1/2 x 2-inch strips
1 tablespoon low-sodium soy sauce
1 tablespoon rice wine
2 teaspoons rice vinegar
1 teaspoon sesame oil
1 teaspoon cornstarch mixed with 2 teaspoons water
2 tablespoons vegetable oil, divided
1 teaspoon finely minced fresh garlic
1 teaspoon finely minced fresh ginger
2-3 green onions, including some of the tops, cut into 1-inch slivers
1 teaspoon red pepper flakes
Instructions
For the marinade, combine soy sauce, cornstarch, and chicken in a small bowl and mix very well to completely coat the chicken with marinade.

For the cooking sauce, combine soy sauce, rice wine, rice vinegar, sesame oil in another small bowl and set aside.

Place a wok or nonstick, wide, deep skillet over high heat and add 1 tablespoon of the oil, swirling until the oil shimmers. Add the chicken and toss over high heat, stirring constantly until chicken is opaque, about 2 minutes. Remove chicken from the pan and add the remaining oil.

Stir fry the garlic, ginger, green onion, and pepper flakes until fragrant, about 30 seconds. Stir in the sauce mixture and the cornstarch mixture and cook, stirring constantly until the mixture begins to boil. Return chicken to the pan, cook and stir one more minutes until sauce is thickened.

Serve over white rice and garnish with slivers of green onion tops.
Your Recently Viewed Recipes