Hearty Mushroom & Vegetable Soup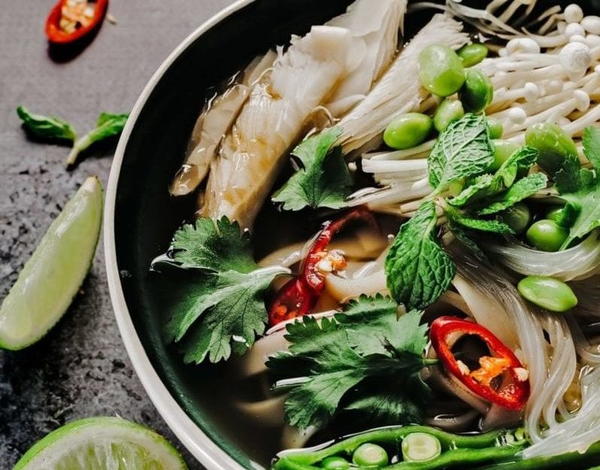 Hearty Mushroom Vegetable Soup
"A hearty and healthy soup that is perfect for the winter season. You can add additional vegetables such as broccoli, lemongrass, bokchoy, and green beans if you like. This is a healthy dinner option since it uses a lean cut of chicken. It is packed with protein. If you want to make this recipe vegan-friendly, you can substitute the chicken breast for tofu. This pairs well with aromatic white wine. Here are our suggestions: * Chardonnay * Semillon * Marsanne * Torrontes"
Serves2
Ingredients
4 cups Vegetable Stock
1 thumb-sized ginger
1 fresh chili
1 cup Enoki Mushroom
1 pound Chicken Breast
1 cup Rice Noodles
1 tablespoon Soy Sauce
handful of Coriander
1 cup Snow Peas
1 cup Shitake Mushroom
Instructions
Roughly chopped the shitake mushroom.

Cut each chicken breast in half.

Heat oil and saute the ginger for 2 minutes or until it releases its aroma

Add the shitake mushrooms and saute for another 3 minutes.

Add the vegetable stock, fish sauce and soy sauce and bring it to a boil.

Carefully add the chicken breast and simmer for 20 minutes.

Add the rice noodles and cook for another 2 minutes until cooked.

Season with salt and pepper and taste.

Add the snow peas and enoki mushrooms at the end.

Top with fresh cilantro and sliced chili.
Your Recently Viewed Recipes