Authentic Singapore Noodles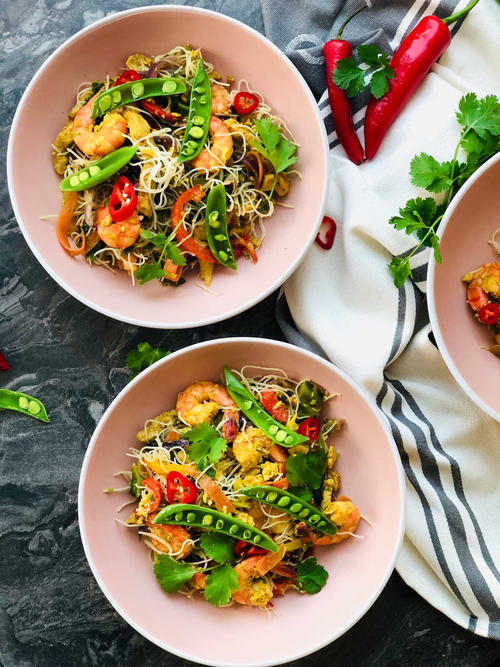 Authentic Singapore Noodles
"Do you like Asian spicy food? What about a nice and quick Singapore-style noodles dish ready in a flash after coming back from work exhausted? These noodles have got nothing to do with Singapore by the way – they are a Cantonese dish but who really cares, they are so, so delish! Well, if the answer is yes to all of the above, you have landed on the right page! Here is a super nice and fairly quick to put together family stir fry dish that will put a smile on all faces around the table."
NotesCooking the vermicelli…. I usually do this by boiling the kettle and leave it to settle for a couple of minutes and then pour the water over the vermicelli and cover with a plate.
Allow them to soak for about five minutes. Check them to make sure they are cooked as you like, I prefer them al dente and truthfully, it is the only way I would eat any pasta/noodle dish.
Serves4
Total TimeUnder 30 minutes
Ingredients
250 g vermicelli dry weight
250 g prawns raw and devained
200 g pork raw and cut into shreds
4-5 spring onions scallions
2 cloves garlic
2 tbsp sesame oil
1-2 tbsp curry powder I used a blend
3 eggs slightly beaten
1 carrot shaved or julienned
1 red bell pepper capsicum
1-2 handfuls cabbage Chinese or spring greens
1-2 red chillies
1 pinch black pepper freshly ground
1 tsp fresh ginger grated on small grater
1 handful of sugar snaps (peas) to garnish
1 pinch red chilli flakes dry approx 1/2 tsp
5-6 tbsp fresh coriander to garnish
1/2 Lemon its juice to drizzle- optional
Sauce:
1 tsp dark soy sauce
2 tbsp sweet soy sauce or 1 tsp sugar
1 tbsp rice wine or dry sherry
1 tbsp chilli sauce
1/2 tsp Worcester sauce optional
1 clove garlic finely grated or chopped
1/2 tsp ginger freshly grated
Instructions
Start by making all the preparations ahead as this dish cooks in less than 10 minutes. Chop, shred, cut, grate all the veggies, everything you need and place all on plate(s) as you wish. Also soak the vermicelli in hot water. Keep an eye on them so that they won't over cook and take out when ready. Set aside till needed later.

In a separate bowl, mix all the sauces with some of the garlic and ginger.

Shred the pork, place in a separate bowl/deep plate and marinade it into 1/2 the sauce.

Take out a deep pan or wok, add half of the sesame oil (1 tbsp) and fry the pork with the curry powder. Cook for 1 or 2 minutes tossing occasionally.

Add a pinch freshly ground pepper and the vegetables (spring onion, shredded or shaved carrot, red pepper and cabbage both cut julienne. Pour in the remainder of the sauce.

Cook for a further 2 minutes tossing occasionally. Take this out, tip on to a plate and set aside for a little while.

Using the same pan (might need a little wiping/cleaning) add the 2nd tablespoon of sesame oil, the shrimps and cook for 1 minute tossing them once or so until they change into a nice pink colour. Add the other finely chopped or grated garlic or grated and the grated ginger. Cook for 1 minute tossing a couple of times. Fire should be medium-high.

Break the two eggs in the same pan with the prawns (or separately if you wish) and cook them, just don't stir too much allowing them to cook and get nicely scrambled. Add 1 crushed dry red chilli but this is optional for extra heat for those that can handle quite spicy.

Merge everything, pork and the vegetables and the vermicelli into the shrimps/prawns and egg and cook for a further minute or two to make sure the dish is nice and hot when served.

Garnish with coriander, sugar snaps( if choose to use) and serve with a nice generous drizzle of lemon juice. Enjoy!
Your Recently Viewed Recipes