Homemade Cracker Barrel Chicken and Dumplings
No one does chicken and dumplings recipes like Cracker Barrel!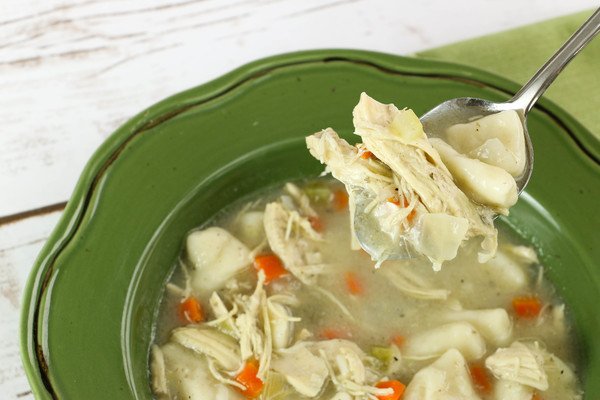 Homemade Cracker Barrel Chicken and Dumplings
For the ultimate bite of down-home country cooking, try this recipe for Homemade Cracker Barrel Chicken and Dumplings. This chicken and dumplings recipe makes for the perfect Sunday supper. Everything's better when it's homemade -- especially comfort food! And this copycat recipe is a perfect example of that. Cracker Barrel's Old Country Store dumplings are simply divine, and the only way to make them better is to make them yourself! (Don't worry. It's easier than you think.)

Even though this recipe calls for homemade chicken stock, you could always use the store bought version, if you're in a pinch. And this recipe is also a great way to use up some of that leftover chicken. The stock and light seasonings in this Cracker Barrel recipe are so flavorful, your friends and family won't even know it's leftover!

The chicken can be cut into large chunks or shredded, depending on how you prefer the dish, but what truly makes this old-fashioned chicken and dumplings recipe a classic is those dumplings that are perfectly pillowy and practically melt in your mouth. This is one dinner recipe Grandma would definitely approve of!
Ingredients
For the Chicken Stock:
1 chicken, whole or cut up
3 carrots, peeled and cut in half
4 stalks of celery, cut in half
1 onion, peeled and cut in half
1 teaspoon dried thyme
2 teaspoons dried sage
Salt and pepper to taste
For the Dumplings:
2 cups flour
1 teaspoon baking powder
1 teaspoon salt
3 tablespoons crisco

3

/

4

cup milk
2 carrots, chopped (optional)
2 stalks of celery, chopped (optional)
1 small onion

1

/

2

teaspoon dried sage
Salt and pepper to taste
Instructions
To Make the Chicken Stock:
Place all ingredients for the chicken stock in a large stock pot. Fill with water until all the ingredients are covered.

Bring the ingredients to a light simmer and let simmer over low heat for about 2 hours. Then remove the pieces of chicken and set aside. Strain the rest of the stock, discarding all the vegetables.

After the chicken cools, cut it into pieces or shred it, depending on how you like your chicken and dumplings.
To Make the Dumplings:
Mix together all of the dumpling ingredients in a mixing bowl until they come together and form a ball. Add more flour if dough is too sticky and more milk if dough is too dry.

Place the ball of dough on a floured surface. Knead a few times until smooth. Roll out the dough with a rolling pin until it is about 1/8 inch thick.

Cut the rolled out dough into slices, then smaller bite-sized pieces. These will be your dumplings.
To Assemble:
Heat the remaining ingredients in a large pot with 6 cups of the strained stock. Add the reserved chicken. Add more water if the ingredients are not covered. Bring to a boil.

Put the heat on low and add the cut-up dumplings.

Simmer on low for 30 minutes or until dumplings are cooked through and the broth has thickened.

If the broth is not thick enough, create a slurry by mixing together 1 teaspoon of flour and a 1/4 cup water in a small bowl. Then whisk into the broth and let simmer an additional 5 minutes.
Your Recently Viewed Recipes