Apple, Blueberries and Pomegranate Cake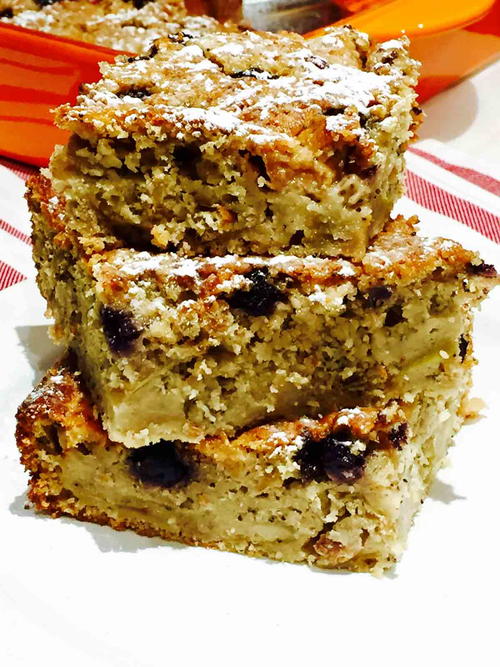 Apple Blueberries and Pomegranate Cake
"I'm such a fan of easy recipes, where there is not much precision and too much sophistication involved, something easy, healthy stuff that we can prepare any time, any day and any mood we might be in. I have to say this apple, blueberries and pomegranate cake is one of those recipes, it is in fact one of our absolute favourites (a common requested dessert in my family). This cake is also absolutely beautiful, when combined with bananas, pineapple, cherries or peaches."
Notes* Retain 2 tbps of sugar to sprinkle on top of the cake.

Enjoy as it is or along a nice dollop of crème fraîche, or more indulgent, a scoop of vanilla ice cream. I tell you that I sometimes prepare a beautiful rum and raisin ice cream, and that is a proper treat.
Serves8
Ingredients
For the apples:400 g cooked apples (see step 1 for details)
1/2 tsp cinnamon powder
3-4 tbsp sugar
1/2 lemon (juice
For the dough/batter:550 g grain flour (mixed, spelt, wholemeal)
2 whole eggs
100 g butter (melted)
150 g sugar (cane unrefined sugar) *
1/2 tsp salt
2 tbsp poppy seeds
Instruction
Start by washing the apples. Peel if you fancy, chop into chunks and place in a pan. Place over medium heat adding 1/2 tsp cinnamon and 3-4 tbsp of sugar. Stir occasionally. Cook for about 4 min until sugar has dissolved. Squeeze the juice from 1/2 lemon and set aside. This is it with the apple cooking.

In a larger bowl, add the flour, the eggs, the melted butter, salt, sugar, oil, the milk, the creme fraiche and the vanilla or the rum( I love rum essence with apples but I know rum isn't on everybody's taste).

Mix all with an electric mixer or simply with an wooden spoon. When it is all homogenised add the soda bicarbonate and the baking powder which were which need mixing first with the vinegar or the lemon juice from the other half of lemon. Add the poppy and the sesame seeds and go live it another good old mix/stir.

Grease a 25x25cm oven dish and preheat the oven at 180 C.

When the apples have cooled mix with the batter/dough and and pour in the oven dish. The batter should be somewhat slightly more consistent than an American pancake one.

Scatter the blueberries and the pomegranate seeds and finish by sprinkling the 2 tbsp sugar over the top. Or you could do the other way around sprinkle the sugar first and then pop the fruits on top to finish with. It doesn't really matter which way you go.

Place in the preheated oven and bake for about 45-50 min at 180* C. It's really depends on the Arvin and also if it is fun assisted or not but roughly the timing will be anywhere between 45 and 55 minutes to an hour just keep an eye on it and when it is nice and golden it's ready.
Your Recently Viewed Recipes