Easy Protein Brownie Recipe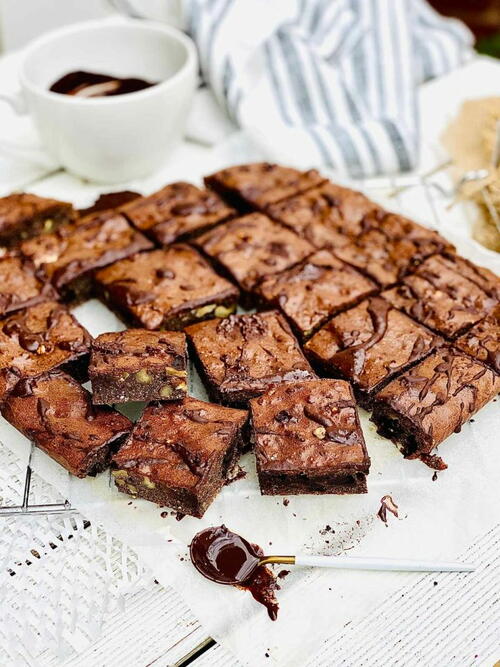 Easy Protein Brownie Recipe
"This protein brownie recipe is easy to make, it is gluten-free, flourless, it's healthy and it makes a perfect pre or post-workout snack. Each square is under 200 calories and it takes you a long way. Make these high protein brownies all throughout the year, they're a great source of energy and quite filling too. The perfect snack to tuck in any time, to take to a picnic or on a car or train trip. This Easy and healthy Protein Brownie Recipe is super easy to make, is grain-free and loaded with goodness and some chocolate too. Made with almond flour, maple syrup and whey protein. "
Serves20
Ingredients
2 cups almond flour (200g)
80 g dark chocolate chips
60 g walnuts roughly chopped and toasted
20 g chia seeds
35 g raw cacao powder
1 pinch coarse sea salt
4 medium eggs
125 g peanut butter
100 ml milk
50 ml maple syrup
Preheat the oven to 170°C/350°F. Line a 10.5"x10.5" square oven proof pan with parchment paper. You may just grease with oil or butter if you like.

In a medium bowl, mix together all the dry ingredients (almond flour, protein powder, chia seeds, vanilla, cacao powder, coarse sea salt, the toasted and chopped walnuts and the chocolate chips or/chunks.

In a different glass bowl, mix and whizz the liquid ingredients - the eggs, peanut butter, milk and maple syrup.

Add the eggs and peanut butter mixture to the almond flour and chocolate mixture and stir until well incorporated. Do not overmix.

Pour the brownie batter into the prepared dish and sprinkle the remaining chocolate chips over the top. Bake for 25-30 minutes.

Cool it on a cooling rack and cut it into squares. Serve and enjoy.
Your Recently Viewed Recipes