Marble Cake With Cacao And Turmeric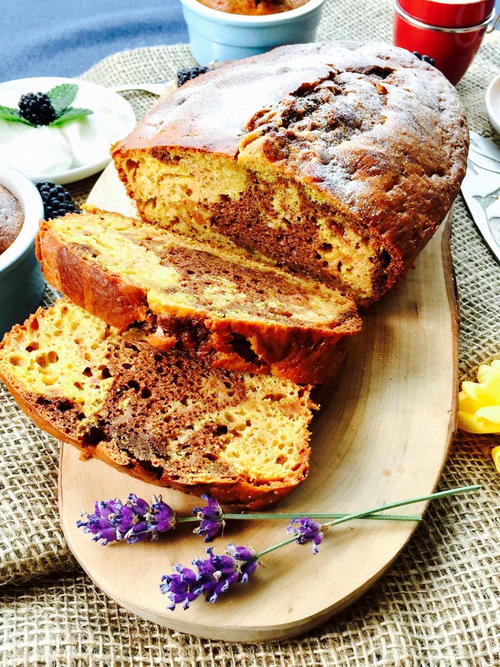 Marble Cake With Cacao And Turmeric
"This marble cake with turmeric and cacao is a wonderful cake, I must admit. It's moist, it's sweet but not too sweet, the cacao gives it that extra nutty 'chocolaty' touch. It's just beautiful. My mum is making something a very similar marble cake but it is a dry version of this, we call it 'chec' , and still love her version. A superb and much healthier version of marble cake that contains yoghurt, turmeric and cacao, a true delight. "
NotesLemon and orange zest
I use the fresh one if possible but I don't always have 'zestable' fruits. I will explain.
Learned this from my mum too. It's the way she always preserved this ever since I remember.
What are the zestable fruits?
For zesting lemons and oranges I always buy my lemons and oranges organic (whenever available).
I wash these thoroughly when I need or eat the fruit and zest them in the jar/glass where I always keep it. I add a layer of sugar on top of about one finger thick.If they are unwaxed I just use them but not the skin.
I use a lot of lemon and orange zest in my baking, in my porridge in the morning it gives such a lovely taste and flavour is amazing not to say that sometimes I use to cook with it too.
It really depends on the dish but a hint of orange flavour in a duck dish… it's amazing.
I have a jar with lemon zest only, one with a mix of orange and lemon and one with lime only.
I also have a cubed orange peel candied in the same way. All need to be kept in the fridge. They do last forever.
It's always good to have these.
Serves12
Ingredients
230 g flour white all purpose plain flour
180 g sugar add a little more if you like it very sweet
180 g yogurt full fat yogurt works best
100 ml oil
3 medium eggs
2 tsp turmeric leveled not heaped
1 tbsp lemon and orange zest *
1/2 medium orange medium the juice
1/2 tsp baking powder
1/2 tsp soda bicarbonate
Instructions
Pre-heat the oven at 190°C or 375°F and prepare the tin (mine is 12cm X 20cm) by greasing it. Use a bit of oil or butter. Spray would do too.

Add the eggs, the sugar into a bowl and using a hand electric whisker, whisk until fluffy. Drizzle in the oil little by little and whisk until this is all added.

Add the yogurt and whisk to incorporate this. Don't over whisk. Add the zest and the salt.

Mix the baking powder and the soda bicarbonate with the orange juice into a tiny little container like a coffee cup or something small and add to the mixture.

Swift in the flour and the turmeric powder and using a spatula mix in gently the flour into the cake mix until this gets pretty much incorporated. Don't worry if you have a lump or two, it's more important that you are not overly mix the batter.

Separate the cake mix (batter) by taking approximately 1/3 away into another bowl. Add the cacao powder to this and gently mix the cacao powder into it.

Place the 2/3 cake mix into the prepared tin and pour the cacao mix into a middle line over the turmeric cake mix. With a chopstick or a wooden spoon handle make some swirl movements to give the cake the marble effect. Not too many as you want the marble patterns rather than mixing this and homogenizing the two batters.

Place the marble cake into the preheated oven (make sure it's in the middle of your oven) and bake for 40 minutes. Do the skewer test and if this comes out clean and the cake has slightly shrunk, it's ready.

Take out of the oven, allow to cool for 5 min. Take it out of the tin completely and allow it to cool on a cooling rack.

It's ready to serve about 30-40 min later. Enjoy with a chocolate drizzle or a scoop of ice cream if you wish.
Your Recently Viewed Recipes