Pineapple Berries and Coconut Cake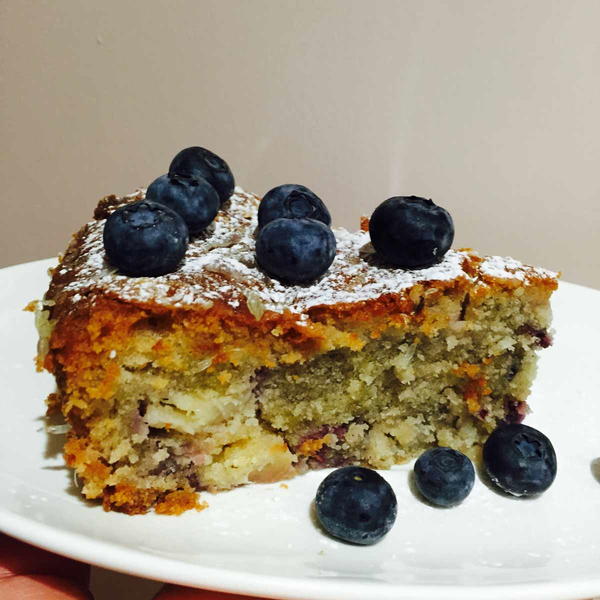 Pineapple Berries and Coconut Cake
"This pineapple, berries & coconut cake is one of those really yummy homemade full of flavour cakes that can be made in no time. This is a recipe that I created a while back and it has been a hit since in my family. It's nutty, it's crispy on the outside and a beautifully textured on the inside with the little fruit lumps that, when they reach your taste buds, it is a blast of happy moments!"
NotesIf you are using frozen forest fruits or berries, make sure they are well drained and contain no water or ice. If they do, depending on how much, you might have to reduce the amount of the pineapple juice.
This cake can very well be a gluten free one by replacing the flour with a gluten free one.

Serves10
Ingredients
180 g butter or coconut oil
250 ml double cream
250 g pineapple (canned or fresh, chopped into little chunks)
100 g berries (fresh or frozen)
50 g coconut desiccated
4-5 tbsp pineapple juice
4 eggs
150 g sugar
200 g almond flour
300 g flour
Instruction
Line/ grease an 8" oven ceramic dish and preheat the oven at 170 C.

Melt butter or coconut oil, place in an electric mixer bowl, add the double cream to this, the eggs, sugar, vanilla, salt, baking powder, soda bicarbonate mixed with the vinegar and whizz for a good 3-4 min. Do not worry if is separates a little/ curdles. It is still going to amaze you in the end.

Add the flour little by little and let it mix until it homogenizes well and nicely.

Add the pineapple juice and whizz for another 30- 40 seconds then add the almond flour, the chopped pineapple plus a handful or two of fresh/frozen berries.

With a spatula, scrape all cake mixture out of the mixer bowl into the baking dish and sprinkle the almonds all over the top.

Place the cake into the oven and bake for 40-50 min at 175 C ( fan assisted oven).
Your Recently Viewed Recipes