Camp Chef Cast Iron Pizza Pan Review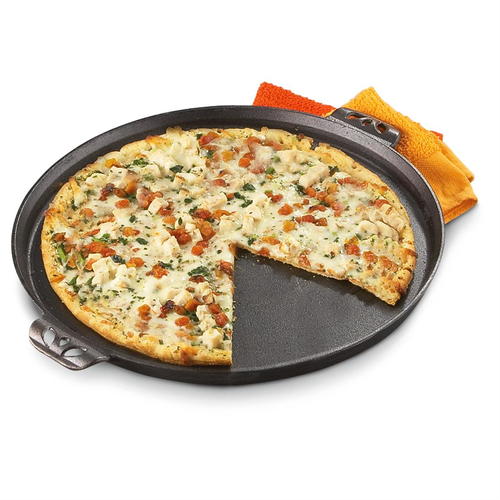 Camp Chef Cast Iron Pizza Pan Review
www.campchef.com
Reviewed by , Editor, AllFreeCopycatRecipes.com

The Camp Chef Cast Iron Pizza Pan cooks homemade pizzas, as well as frozen pizzas, perfectly every time. The large pan comes pre-seasoned and ready to use. Its large size makes it ideal for other uses like making pancakes or grilling sausage and peppers. 



While this pan is designed with the camper in mind, it is also perfect for home kitchen use. It can be used safely on an open fire, grill, stove, or in an oven. It is ideal for use while camping because the surface heats so evenly.



Unlike most cast iron cookware, this pan doesn't require you to spend time seasoning it. The pan comes seasoned perfectly by Camp Chef. I love that you can use it right away without performing that extra step. 



I found pizza cooked on this cast iron pan crisped up perfectly. The results were similar to using a high-quality pizza stone. I particularly liked using the pan to serve pizza after baking. This is because the residual heat from the pan keeps the pizza hot while you eat it. I found the pan also worked well for baking cookies, making fajitas for a crowd, and heating appetizers.



This pan is not only highly functional; it is also designed with aesthetic in mind. There are two handles that give the pan a distinctive flair. When not using the pan to bake, it works wonderfully as a server for appetizers and desserts.
Your Recently Viewed Recipes