Capresso Espresso and Cappuccino Maker Review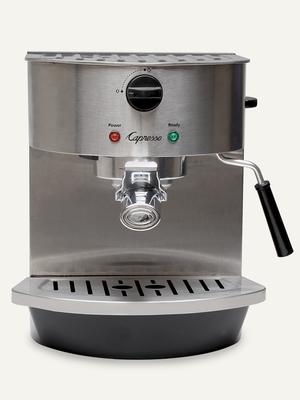 Capresso Espresso and Cappuccino Maker Review
Gifted By: Capresso
www.capresso.com
Reviewed by Arielle Matlin, Editor, AllFreeCopycatRecipes.com
The state of the art Capresso Espresso and Cappuccino Maker makes a perfect cup of espresso every time. The maker can make two shots of espresso at once and has a milk frother to create a delicious cappuccino. The machine keeps water hot and ready to brew at all times allowing you to create a coffee shop-quality beverage in just a couple minutes.
I was impressed by how easy this machine was to operate. With coffee pods becoming the norm, it can be intimidating for some people to use a regular coffee or espresso maker. This machine is made to be operated with ease. There are just two control knobs: one for the brewing and one for the milk frother.
The speed of the Espresso Maker is also something to note. It holds a large reservoir of water, so you can have hot water ready to go when you want a cup of coffee. It also means you don't have to constantly fill the maker with water. You can also choose between making a single shot of espresso or double shot simply based on the sieve you pick.
I was able to quickly learn how to best use the frother. Luckily, it does not require a delicate hand like some others I have used. It frothed milk incredibly quick and made a delicious cappuccino.
This easy to use Espresso and Cappuccino Maker doesn't just work great, but it looks great, too! The stainless steel design will match any kitchen decor. Next time guests come over, you can offer a perfect cup of Joe using this maker.
Your Recently Viewed Recipes