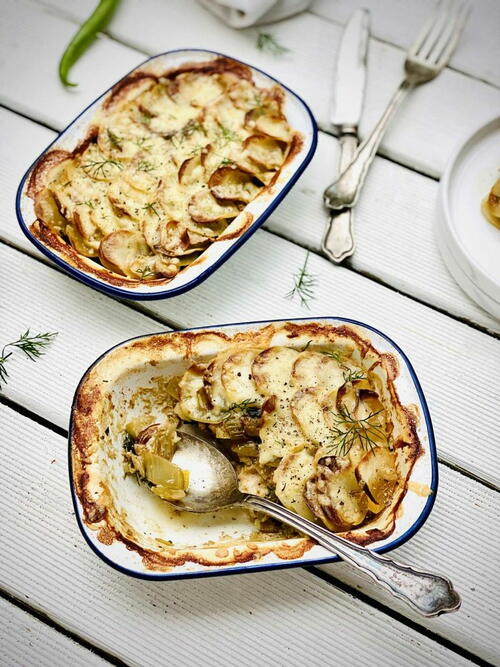 Easy Fish Pie Recipe
"This is the perfect recipe for everyone that fancies a good, healthy seafood dish that's ready in a jiffy. I have been making quite a few fish dishes lately as part of making our healthy eating become a reality, and this low calories and super easy fish pie recipe is the latest fish dish in the collection. Definitely one easy fish pie recipe to make and share with your family or friends, delicious and nourishing, packed with beautiful vegetables and flavors. "
NotesHaving a chunk of something smoked is definitely a must as far as I like it, it brings a real depth and richness to the dish as well as (again!) making it more sustainable since we have real good smoked fish available to buy online or in supermarkets like haddock or salmon.


Serves4
Ingredients
450 g mix fish Hake, cod loin and haddock
5-6 leaves spring greens I used collard
4 small potatoes thinly sliced (for topping)
1 tablespoon butter
1 teaspoon coconut oil or butter
1/2 medium fennel
3 small celery sticks
3 small shallots
1/2 medium leek
2 cloves garlic
200 ml milk
Nutmeg
Salt sea salt or Himalayan
1 pinch Pepper freshly ground
60 g grated cheddar cheese
3 tablespoons fresh dill freshly chopped
Instructions
Preheat the oven and prepare one big or two smaller ovenproof dishes. You may slightly grease them if you like.

Place a pan on medium fire, add a tablespoon of coconut oil, or butter, add the roughly chopped shallots, crushed and chopped garlic and a pinch of salt Cook for 2 min.

Add the chopped leeks, celery, fennel and cook for 2 more minutes.

Add the spring greens chopped and cook for 1 or 2 more minutes stirring in occasionally.

Pour in the milk and cook for 1 further minute. Turn off the heat.

Split the fish pieces into two and place those at the bottom of the ovenproof dishes. Sprinkle some salt and freshly ground pepper. I used two dishes but you can just use one.

Split the vegetables and layer those into equal amounts over the seasoned fish.

Using a mandolin slicer, slice the potatoes and layers those over the fish pie.

Place the pies in the preheated oven and cook for 25-30 min at 190C/375F.

Take out and add the grated cheese. Cook for a further 10 minutes.

Serve while hot along with a nice leafy salad or as it is. Goes well with some homemade crusty bread.
Your Recently Viewed Recipes