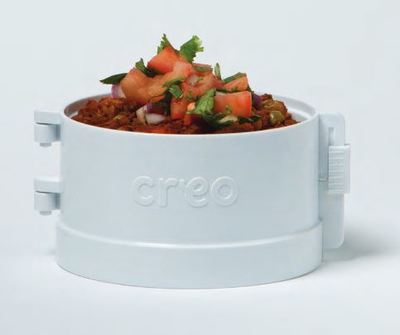 Creo Stax Review
Gifted by: Creo
Reviewed by Arielle Matlin, editor of AllFreeCopycatRecipes.com
Have you ever gotten a dish at a restaurant and wondered, "How did they make this look so pretty"? The mystery is revealed when you start to use the Creo Stax, one of the latest innovative food prep tools to come along. The Creo Stax kit includes everything you need to make restaurant-style dishes at home that will impress.
Famous restaurants are all about presenting food in an exciting and unique way. This kit creates beautifully presented "towers" of food. The pieces in the kit make it simple and easy to assemble the "towers". You can even create a double tower of food that will truly wow friends and family. The divider piece is particularly helpful when you want to give everyone a little taste of your beautiful creation. All the pieces are user-friendly and come apart to clean very easily. Each piece can be put in the dishwasher for mindless cleaning.
The kit comes with a guide book filled with 22 recipes to get you thinking creatively and outside of the box. Some of our favorite recipes are the Cucumber and Avocado Wrapped Slaw and the Polenta-Tomato Stack. The recipes are for all skill levels and are marked to denote difficulty. You can make anything from salad to dessert using the Creo Stax. The recipes come out looking fantastic, but they also taste great. This kit is all about having fun with cooking and experimenting with new cooking techniques.
Enter to win the Creo Stax Giveaway from 11/17/2014-11/30/2014!
Your Recently Viewed Recipes