Epicurean Pizza Peel and Cutter Set Review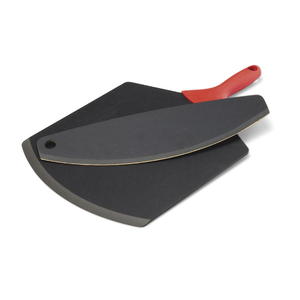 Epicurean Pizza Peel and Cutter Set Review
Gifted by: Epicurean
www.epicureancs.com
Reviewed by Arielle Matlin, Editor, AllFreeCopycatRecipes.com
The Epicurean Pizza Peel and Cutter Set includes the tools you need to serve great pizza at home. The Epicurean Pizza Peel allows you to make homemade pizzas without worrying about how you will get them in the oven or on the grill. The Epicurean Pizza Cutter glides across your pizza to create perfect and even slices.
Pizza is one of my favorite foods. I love it all: frozen, delivered, and homemade! This Epicurean Pizza Peel makes handling frozen pizzas, as well as homemade pizzas, much simpler. A beveled edge on the front of the peel makes lifting and sliding raw or baked pizza dough simple. An incredibly comfortable handle keeps your hand from cramping or slipping while holding this peel.
After using the Pizza Peel to remove your pizza from the oven or grill, you can use the Epicurean Pizza Cutter to slice your pieces. I love how you can rock the cutter across the entire pizza in one movement. It slices right through the crust whether thin or thick. In addition, a hanging hole allows you to keep the cutter in a convenient location.
Like all of Epicurean's products, these tools are made with sustainable wood fibers in an eco-friendly facility. In addition to being good for the environment, the surfaces are durable and, of course, food safe. Both tools can handle high levels of heat without warping and they can even be put in the dishwasher after using them.
Your Recently Viewed Recipes