Tomato and Polenta Dumplings Soup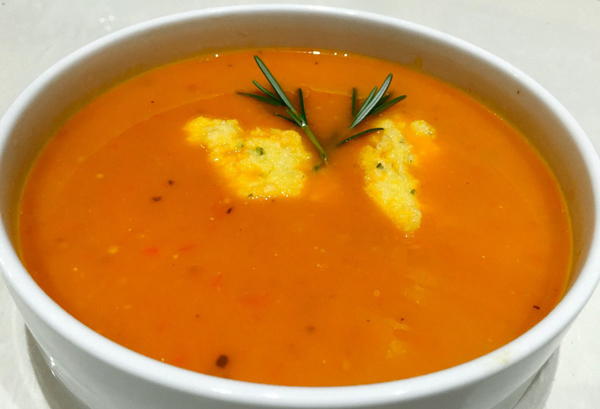 Tomato and Polenta Dumplings Soup
"This tomato and polenta dumplings soup is such a refreshing, light and packed with antioxidants and vitamins soup a real winter warmer and a soul-hugger like I always say. This soup is as good and refreshing if eaten in the summer when can be enjoyed even cold. Of course, to make it a little creamier and even more exciting that this soup already is, just add a dash of creme fraiche. Yumm. The taste given by the roast vine tomatoes is so unique. It is gluten free too!"
Serves4
Ingredients
For the soup900 g vine tomatoes (organic)
1 l water boiling (use kettle)
2 small carrots (organic)
6 cloves garlic (organic)
3 peppers (red) (organic)
2 tbsp balsamic vinegar (optional)
2 tbsp olive oil
1 pinch salt
For the polenta500ml water boiling (use kettle)
150 g polenta flour dry, fine or coarse
Preheat oven at 180 C/ 350 F/ Gas Mark 4.

Peel and wash all the vegetables. Peel only 2 garlic cloves the rest leave them skin on.

Cut tomatoes into quarters or halves, finely chop half rosemary, peppers and onions cut into chunks, four cloves of garlic (leave skin on). Put all in a baking tray, toss them and sprinkle some salt, the olive oil and freshly grind some black pepper. Place in the oven and roast for 25-30 min. At this point you can increase the oven temperature to 200 C/ 400 F/ Gas mark 6 if you wish. Don't forget to sprinkle the balsamic vinegar if you choose to put it in. It's really nice I do recommend you try it.

Making the polenta 1. While the vegetables are roasting nicely, place a medium size pan on a medium fire, put the 500 ml boiling water from the kettle in, some salt, and the remainder of the rosemary needles finely chopped. When the water begins to boil again which should happen pretty much straight away, sprinkle in the polentsa flour little by little while stirring continuously with the other hand (with a wooden spoon) until it all goes in. Keep on stirring so that it doesn't form a crust. This should be ready in 5-7 min.

Back to the soup again 1. Place all the roast veggies into a cooking pan, on medium fire, put the boiling water (1l) but before, please don't forget to squeeze the garlic cloves out of their skin ????. With the help of an electric hand blender, blend it all nicely until it becomes nice'n smooth. Season well.

2. Take the polenta into spoonful dumplings and spoon them into the soup. Cook for 5 extra minutes.
Your Recently Viewed Recipes