Salmon & Broccoli Frittata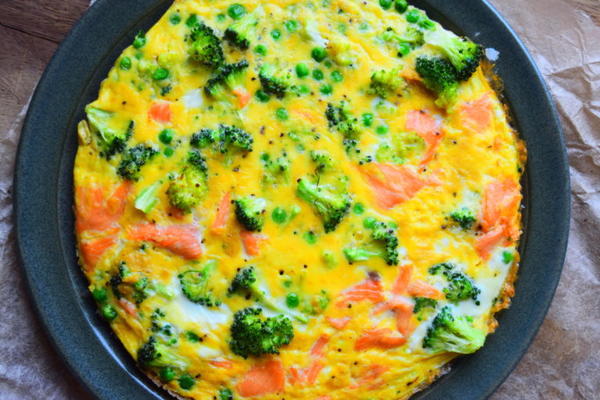 Salmon Broccoli Frittata
"Here's another healthy and delicious recipe that we've developed for Fertility Road magazine. This simple frittata recipe is jam packed with nutrition and contains so many nutrients, which are important for conception. Eggs are such a great source of protein and iron (which are both really important nutrients for fertility). In addition they are also a fantastic source of vitamin D. Women who struggle with fertility often suffer from a deficiency in vitamin D. Broccoli is a good source of vitamin C, folate, calcium, iron, zinc and fibre. Vitamin C is particularly important for improving sperm quality in men and it also helps reduce the chance of miscarriage and chromosomal problems for women. Salmon is another great protein source and is rich in so many nutrients but particularly omega-3 fatty acids, which are proven to regulate blood flow to the reproductive organs."
NotesSee more recipes here - http://www.mynutricounter.com/
Serves2 People
Ingredients
5 eggs
90 grams broccoli
60 milliliters almond milk
2 teaspoons nutritional yeast
60 grams smoked salmon
95 grams frozen peas
1 teaspoon olive oil
Preheat the oven to 180C/360F. Heat the olive oil in a frying pan, then add in the chopped broccoli florets and fry over a medium/high heat for 3-4 minutes. Add in the peas and turn the heat up to high, heat for 1 minute.

Crack the eggs into a bowl and mix with the almond milk, nutritional yeast and sliced smoked salmon. Pour the egg mixture into the frying pan with the peas and broccoli and leave to cook for 2-3 minutes (until the bottom of the frittata has cooked). Place the frying pan in the oven and leave to cook for 10-15 minutes.
Your Recently Viewed Recipes