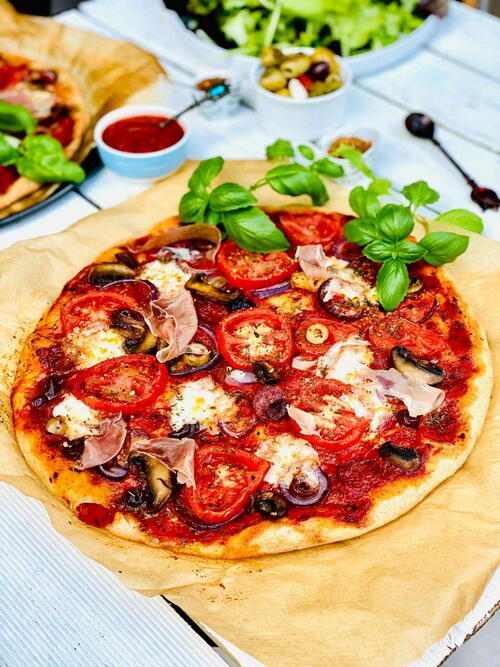 Healthy Homemade Pizza
"Homemade pizza is probably the best thing you can dream about making at home. It is not hard to make at all and the beauty of homemade pizza is that you can customize it and choose the toppings you absolutely love and even make it a healthy pizza too. How? Simply by substituting certain ingredients for healthier options. See my recipe below for all these details. One thing we or kids always crave for it's undoubtedly the good old pizza. Why not make everything from scratch so we turn it into a nice and healthy and almost a guilt free meal! "
NotesThis recipe provides measurements for a medium crust pizza base, if you would like a pizza with a heavy topping, it will be better to use a thicker crust.
Here are the quantities for the thick crust pizza base (for 2 people)
- 3/4 oz (25g) fresh yeast or 2 teaspoons active dry yeast* – see notes for yeast below
- 3 cups spelt flour (450 g) plus some extra to dust
- 1/2 teaspoon salt
- 1 tablespoon of extra-virgin olive oil
- 1 1/3 cup water (lukewarm)

Yeast:
- for best results use fresh or active dry yeast
- instant or rapid-rise yeast is also good and for the latter, you do not need to let your dough proof.

Make your own cheese blend
My absolute favourite pizza cheese blend is equal parts of:
- cheddar
- mozzarella
- provolone (smoked even better if you can find it)
Just get equal amounts of cheddar, provolone and mozzarella and throw them in your food processor. There you'll have a freshly grated pizza cheese, just the way it should be.

Serves2
Ingredients
For a medium crust pizza dough:300 g spelt flour ( 2 cups) plus some extra to flour surface and dust hands
200 ml warm water ( approx 1 cup)
15 g fresh yeast or 1½ teaspoon active dry yeast
⅓ teaspoon salt
1 tablespoon olive oil extra virgin
1 teaspoon honey or cane sugar
Pizza topping:6 tablespoons tomato sauce best if made from scratch
1 cup mushrooms cooked
100 g mozzarella cheese
4 slices parma ham (nitrates free)
3 small tomatoes thinly sliced
1 cup olives chopped ( one handful)
1 medium red onion
To make the pizza dough: Dissolve yeast and sugar in warm water in a bowl. Rest this until the yeast mixture forms a creamy foam, 10-15 minutes.

Mix the flour and salt in a large bowl. Pour in the yeast mixture and mix well until the dough comes nicely together. Knead for 5 minutes or so.

Allow it to rest for at least 30 minutes.

Roll and spread the dough into an approximately 12-inch disk. Transfer to a greased pizza pan, a skillet or a sheet pan.

Pizza assembly: Spread the pizza sauce using a spoon and sprinkle all the toppings.

Bake at 205°C OR 425°F for 15-20 minutes or longer. Bake until bubbly and hot, brown and delicious looking.
Your Recently Viewed Recipes