Potato Soup with Ham Hock and Petit Pois (Garden Peas)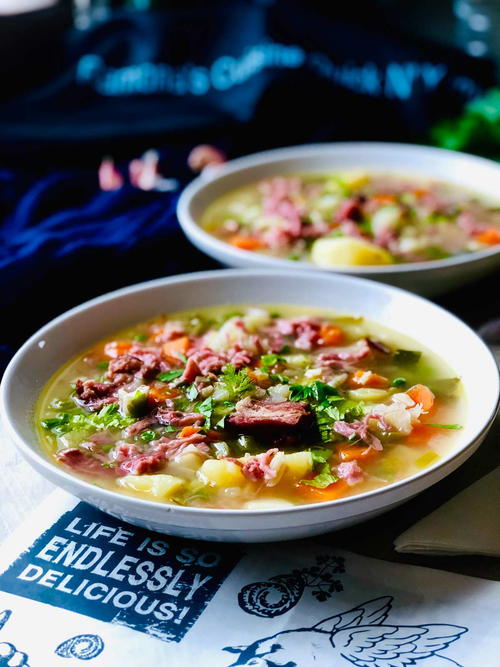 Potato Soup with Ham Hock and Petit Pois Garden Peas
"It's June and I am posting potato soup recipe!! Well yes, it is so cold today – windy, rainy and miserable and it was like this for quite some days now. Pretty immediately after we've had (just last weekend) a proper summer weather with hights of almost 29 C ( 85 F) to now 14 C (55 F). It looks like the sun will be a rarity in the next few days sadly, so hey, more comfort food on the way then! This potato soup it's one of those soups that I could have again and again no matter what the season or time of the day is. It is truly and utterly delicious."
Notes• You may use oil to drizzle and shallow fry your onions and meat in step 1. I avoid using oil or butter in any recipes that contain meat. I just don't find it unnecessary, but this is me. It's not fuss but just a habit that built over the years. I do avoid frying in all my cooking as I haven't been doing this for over two decades.
• I mentioned Turkish peppers – see this recipe to visualise those – they are used to grill for BBQs – some can be a little hot too, the darker the spicier they are.
Serves6 People
Ingredients
2 l stock I used vegetable but water is as good
200 g pork ribs I used smoked
400 g ham hock ready cooked – pulled
2 onions
1 larger carrot
2 celery sticks
4 potatoes large organic approx 500g
2 Turkish peppers see Recipe Notes for more info on these
100 g fresh garden peas
1/2 courgette zucchini
Instruction
Place a larger pot over medium heat. Add the pork ribs together with the finely chopped leek and onions. Use a little drizzle of oil if you fancy a little frying and cook for 5 min stirring occasionally. I use a sprinkle of water instead of oil.

Add the remaining chopped or cubed vegetables (1 carrot, 1/2 courgette, 2 celery sticks, 2 long Turkish peppers and the roughly cut potatoes. I usually cut those into 8 or 12 chunks depending on how big they are. Allow these to cook with some salt for a further 3-4 min. Stir every minute or so.

Add the vegetable stock (or the water), the bay leaves. When it reaches the boiling point turn the heat slightly down to keep it to a nice bubbling point. Cover and cook for 40 minutes.

After the 40 minutes, uncover, add some salt and freshly ground black pepper to taste. If using gammon or any salty meat you may reduce the amount of salt or add none at all.

Add the cooked ham hock, the garlic and the frozen peas. Allow to boil for a further 10 min uncovered. Add the herbs at the end and serve with some nice crusty homemade sourdough or any crusty bread.
Your Recently Viewed Recipes