Chickpeas Gluten Free Falafel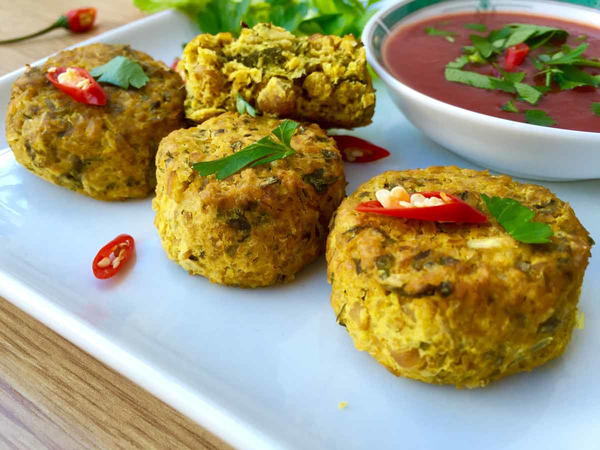 Chickpeas Gluten Free Falafel
"One of my very good friends is running a falafel restaurant and has given me some good tips on how to make an awesome gluten free falafel. I have made few changes to the original recipe and I have come up with this delicious recipe. I cook chickpeas quite often as we love them. I will put a lot more recipes with this amazing ingredient which I think is overly understated and we often don't realize how good for our health this is."
Notesf you are going to use the flour, allow the mixture to rest in the fridge for at least an hour before baking. I generally don't use the flour as I don't mind they are a little crumbly since most of the time I have those in a pita bread pocket with salad a good dash of humus and plenty of tahini sauce.
If you don't want any bread just serve on a bed of salad with some coleslaw and with a generous drizzle of tahini sauce.
To die for! ? ? ? ? ? ? best ever!
Enjoy !
Serves4
Ingredients
500 g chickpeas (organic)
2 medium onions
2 cloves garlic (organic)
2 onions (organic)
1 bunch coriander (organic)
1 tsp turmeric powder (organic)
10 springs parsley fresh (organic)
1 lemon (only the juice)
1 tsp cumin powder
1/2 tbsp himalayan salt
Instruction
If you are cooking the dry chickpeas, ideally soak them for a while which can be anything between 3-12 hours and change the water once if you can and remember.

After soaking, rinse well the chickpeas and place in a pot with a 1/2 teaspoon of salt and cook/boil covered for 30-40 minutes if soaked and a bit longer if you didn't get to soaked them. I always recommend you follow pack instructions. Ideally is to change the first water, meaning that as soon as the chickpeas begin to boil for the first time, drain those of that water completely, rinse with cold water and place again on fire to cook. If you chose to use the canned beans there is no need for any of the above but jump straight to step 4.

While beans are cooking, peel wash and chop roughly the onions and the garlic, and place all in a food processor along with the roughly chopped parsley, coriander and the spring onions, salt pepper, cayenne and cumin powder.

Put the chickpeas in the food processor, give them a few pulsing rounds and until they roughly chop. Add the onion mix (step 3) to this and give it few more pulses until all mixed but still remain fairly rough. Do not overly mix.

With a spoon take the mix and form balls (approx 2cm ?⚫️) place on slightly greased parchment paper and bake for 30-40' at 190 C

Optionally you could add the flour and the soda bicarbonate to the mix.
Your Recently Viewed Recipes