The Best Burger Recipe Ever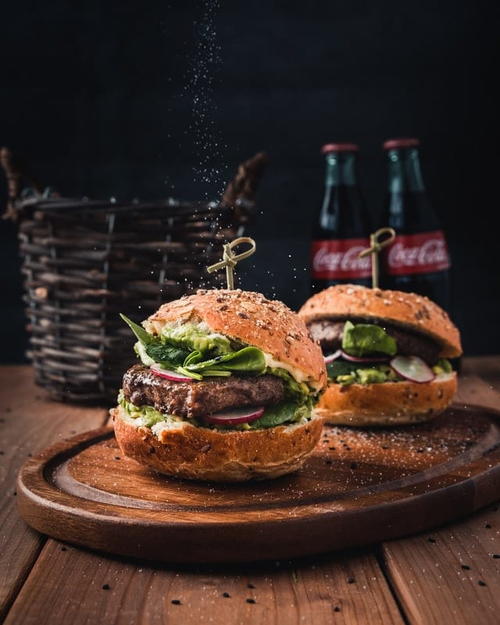 The Best Burger Recipe Eve
"The best burger recipe that you can make within the comforts of your home. Discover this delicious burger with the best burger toppings! Guacamole, pickled radish, and arugula make this beef burger recipe a fresh take on a regular hamburger recipe. A cast-iron skillet is best for this dish. But you can use non-stick if that's what you have. Sear both sides of the patty and roast it in the oven for 5 minutes to help it stay juicy. It will create a tastier patty as it cooks."
Serves4
Ingredients
28 ounces ground beef
2 ounces shitake mushrooms
2 teaspoons salt
2 teaspoons ground pepper
2 ounces onion
2 tablespoons oil
4 burger buns
2 ounces pickled radish
3 ounces fresh arugula
2 ripe avocadoes (Guacamole)
Instructions
Combine minced shitake mushrooms and all other ingredients except guacamole, arugula, burger buns, and onions.

Separate the beef mixture into 4 equal portions.

Form ground been into patties a bit bigger than the size of your buns.

Season generously with salt and pepper.

Heat 1 tablespoon of oil in a heavy-based skillet or BBQ over high heat.

Add onion and cook until wilted and caramelized.

Add patties and cook for 3 minutes until golden with a great crust.

Do not press! Flip carefully, cook for another 3 minutes. Set aside.

Meanwhile, toast the cut side of the buns lightly.

Combine the guacamole ingredients.

To serve: Spread the base of buns with guacamole, pickled radish, burger patty, onions, arugula, and guacamole.
 

Top with the other half of the bun. Serve immediately.
Your Recently Viewed Recipes