Homemade Beefaroni Recipe
This yummy homemade beefaroni recipe is made using tomato soup!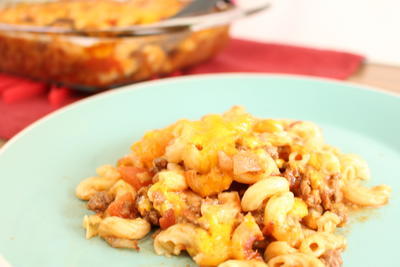 Homemade Beefaroni
Sometimes all you need is a little comfort food. This Homemade Beefaroni is just that. Accompanied by a recipe for homemade pasta sauce, this Chef Boyardee copycat recipe is just what you need to cheer you up if you're feeling a little down! Kids will naturally love this recipe with ground beef and it is so much better than the store-bought version. Fresh meat and sauce make all the difference in this homemade version. Stop thinking about what's for dinner and make this pasta tonight!
Serves6
Preparation Time - Textminutes
Cooking Time - Textminutes
Cooking Vessel Size3 quart casserole dish
Ingredients
1

1

/

2

cup macaroni
2 pounds lean beef, minced
1 medium onion, chopped
1 clove garlic (or) 1/8 teaspoon garlic powder
1 teaspoon salt
1 teaspoon Worcestershire sauce
1 dash Tabasco sauce
1 can (28-ounce) tomatoes
1 can (10-ounce) tomato soup
1 cup cheddar cheese, finely cubed
sprigs of thyme (optional)
Instructions
Preheat oven to 350 degrees F.

Cook macaroni according to package directions. Drain.

While prepping the macaroni, brown the ground beef, onion, and garlic. Drain out excess liquid and grease.

Add salt, Worcestershire sauce, Tobasco, tomatoes, tomato soup, and thyme (optional). 

Combine with cooked macaroni and pour into 3-quart casserole. Sprinkle cheese over top of casserole.

Cover and bake for 30 minutes.

Uncover and continue baking for an additional 20 to 25 minutes.
Who Was the Real Chef Boyardee?
Ettore Boiardi left his home in Italy in 1914 when he was just 16-years-old to come to the United States. He quickly got a job as the head chef at the renowned Plaza Hotel in New York City, wroking alongside his brother. From there, his repuation as an amazing chef only grew, and in 1915, he catered President Woodrow Wilson's wedding reciption. Boiardi was just 17 at the time. Eventually, he opened his own restaurant in Cleveland called Il Giardino d'Italia with his wife, Helen Boiardi, and just four years later, he began producing his famous canned meals. With the help of two regular customers of his restaurant (who happened to own a grocery store), he developed a canning design and process, and his product took off. Eventually, Ettore Boiardi changed his name on the labels to Hector Boy-Ar-Dee, so it would be easier for Americans to pronounce. While many of the faces used to sell food items are acutally personas created by companies to help sell their products, Boiardi was a real Italian chef, and his legacy of delicious meals from spaghetti and meatballs to the iconic beefaroni is held dearly in the memories of generations of children.
References:
Ettore Boiardi from Wikipedia
Your Recently Viewed Recipes