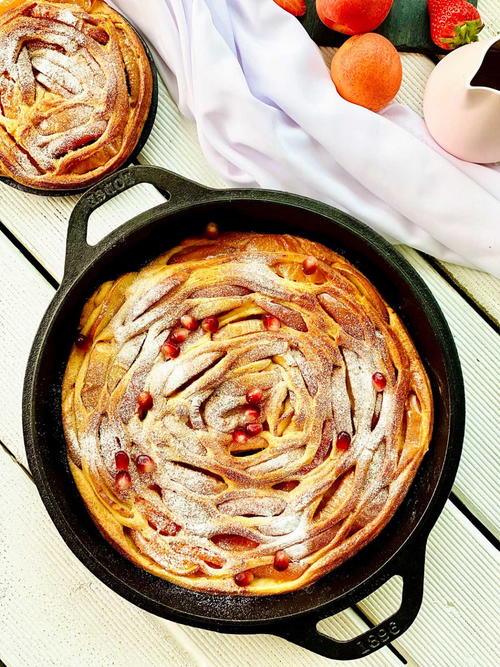 Cinnamon Roll Apple Pie
"If you are a lover of cinnamon roll and apple pie this is your dream treat. To me, there is nothing better than a cinnamon roll apple pie – a combination to die for. Truly amazing! This time I have made it with a ready bought crescent dough or croissant ready rolled pastry which we can readily buy over here in the UK. I do use ready bought pastry as I find it too much work to make my own, however, sometimes I do make my own croissants from scratch which are amazing but take a little too long to make."
NotesI have chosen to add quite a few apples but you can cut the amount of the apples if you like it sweeter. Maybe a couple of apples would suffice.

Of course you can choose other fruits too and berries are going particularly well with this recipe.

Choose nice and sweet apples rather than any sour ones.
Serves6
Ingredients
1 pack croissant pastry I used just roll ready-made croissant dough
3 large apples sliced and cooked
1 tsp cinnamon
4 tbsp sugar unrefined
1 tbsp icing sugar powder sugar
2 med apricots optional
4 tbsp pomegranate seeds or any other fresh fruits
3-4 tbsp sugar extra to sprinkle over (optional)
Instructions
Preheat the oven at 180C/350F and lightly grease a skillet or an ovenproof dish.

In a pan, cook the sliced apples with the sugar over medium fire until the sugar has completely dissolved. It will take approximately 5-6 min. Add the cinnamon, mix and set aside to cool.

While the apples are cooling off, cut the pastry lengthwise into 2cm or approx 1 inch thick strips.

Arrange the pastry strips into a circular pattern.

Insert apple slices in between the pastry strips allowing some distance in between each slice (see picture) Drizzle the juices from cooking the apples over if any.

If you like it sweeter, sprinkle 3-4 tablespoons extra sugar over as apples aren't too sweet so there is room for extra sweetness if you like that.

Place the cinnamon roll apple pie into the preheated oven and bake for 20-25 min until it turns nice and golden brown. Place in the middle of the oven and if you have an oven that it is not fan assisted, you may need to bake it a little extra. Just keep it in until you are satisfied with its color.

When ready, take it out and serve pretty much immediately with your topping choice.
Your Recently Viewed Recipes