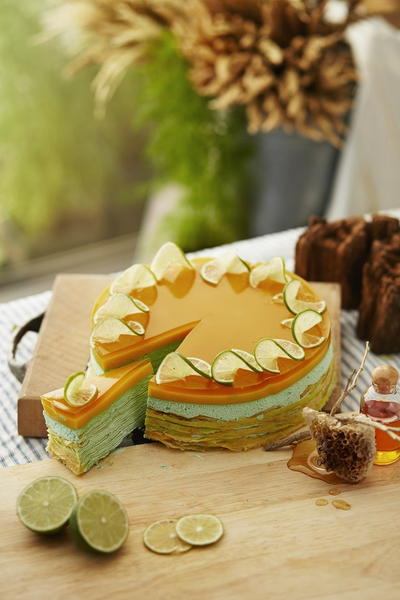 Coconut-lemon Crepe Cake
"What better way to enjoy a breakfast crepe than in cake form? Stack individual crepes into a delicious cake recipe. This crepe cake recipe is a simple dessert idea for the whole family. Some people are still confused about the difference between pancake batter and crepe batter. Pancake batter uses a leavening agent like baking powder or baking soda, which causes the batter to rise into a soft pancake. While, crêpe batter is made without any leavening agents, which is why the mixture cooks into a thin yet tenderly soft flatbread. Also, crepe batter has a thin consistency compared to pancake batter."
Serves5
Ingredients
2 cups whole milk (Crepe)
1 cup all-purpose flour (Crepe)
1 cup granulated sugar (Crepe)
1 teaspoon salt (Crepe)
1 teaspoon lemon zest (Crepe)
1 teaspoon coconut extract (Crepe)
4 large eggs (Crepe)
4 egg yolks (Crepe)
1 stick unsalted butter (Crepe)
14 ounces coconut cream (Filling)
Instructions
In a blender, combine all of the crepe ingredients and blend until smooth.

Transfer to a bowl and chill for 1 hour.

After chilling, grease two 10-inch nonstick skillets and heat over medium heat.

Staggering about 1 minute apart, add ¼ cup of the crepe batter to each pan.

Quickly swirl to coat the entire pan surface with a thin layer of batter.

Cook until the crepe just begins to change color for 2 minutes, then flip and cook for 1 more minute.

Transfer to a plate to cool.

Stack the cooked crepes on a plate to cool until you have 18 crepes total.

Meanwhile, make the filling.

In a large bowl, beat the coconut cream with an electric hand mixer until soft peaks form.

Add the remaining filling ingredients and mix until smooth.

Assemble the cake: Lay one crepe down on the bottom, then top with ¼ cup of the filling. Spread the filling into an even layer.

Continue this process until all the crepes have been used. Cover with plastic wrap and refrigerate until the filling has set.
Your Recently Viewed Recipes