Gluten Free Almond, Sour Cherries And Raw Organic Cacao Squares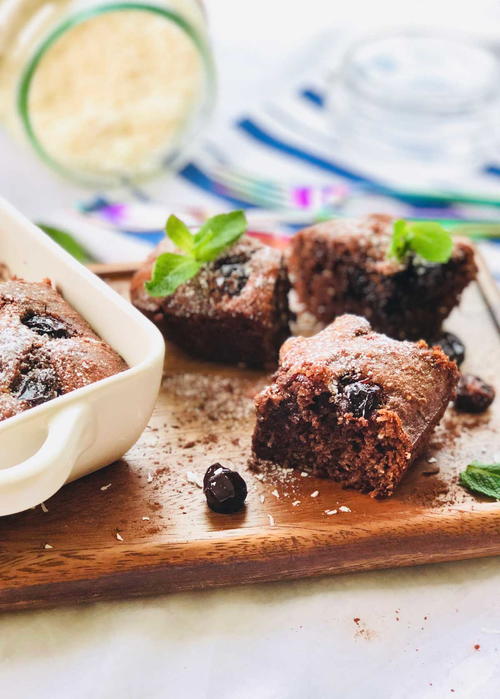 Gluten Free Almond Sour Cherries And Raw Organic Cacao Squares
"I had some almond flour but before anything else, I quite fancied some fluffy, and quite almondy, some delicious dessert that was going to be ready before the munchkins were coming downstairs to have a nice breakfast with a glass of kefir. This Gluten-Free Almond, sour cherries and cacao bites are made from just six basic ingredients, hardly involve any effort in preparing them and are so delicious. Let's get on with a little baking then, shall we?"
NotesDid you make this heavenly yummy recipe?

Please do let me know how you liked it, and if you gave it any twist, all in all, how did it turn out for you, why not leave a comment below and even share a picture on Instagram with the hashtag #ramonascuisine. ?
Serves20
Ingredients
270 g almond flour sieved
90 g butter melted
50 g icing sugar
5 eggs
50 g gluten free flour
120 ml honey
20 sour cherries drained of any juice/syrup *
1/4 tsp soda bicarbonate
1/4 tsp baking powder gluten free
1 tbsp lemon juice
Instruction
Preheat oven at 350F or 175°C fan assisted oven.

Grease or line with parchment a 22-24cm (9-91/2in) oven proof dish.

Melt the butter and set aside. Do not heat too much as you will need to wait for this to cool before using.

In a larger bowl put together the almond flour, the gluten free flour, the the icing sugar, the soda bicarbonate and baking powder mixed together with the lemon juice, a pinch of salt and the raw organic cacao powder. Mix slightly with a whisker until nicely homogenised.

Add the melted butter, honey and eggs into it. Mix very well using a hand whisker until homogenised and there are no lumps. Add the coconut flakes if you wish to use.

Pour the mixture into the greased/lined oven dish.

Sprinkle the sour cherries evenly on top of the batter.

Bake for about 30-40 minutes, depending on the oven and whether this is fan assisted or not. Since the batter is already brown you will not see when it has browned but slightly touch the middle part of the dish and it should feel nice and set. Maybe even rotate the dish half way while baking to achieve an even baking.

Take out of the oven and allow to cool before removing from the dish.

Dust slightly with some additional icing sugar, cut into nice bite size squares and serve.
Your Recently Viewed Recipes