Starpack Ultimate 7 Piece Silicone Baking Set Review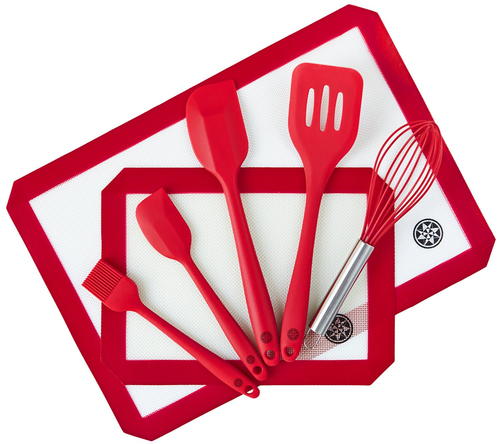 Starpack Ultimate 7 Piece Silicone Baking Set Review
www.starpackproducts.com
Reviewed by , Editor, AllFreeCopycatRecipes.com
The Starpack Ultimate 7 Piece Silicone Baking Set is truly the ultimate baking set. It includes 2 silicone baking mats, a whisk, a turner, 2 spatulas, and a basting brush. This set is the perfect gift for all your favorite bakers. 

 

The baking mats are made from high-quality silicone and will save you time, energy, and money. They replace the need for parchment paper or wax paper because they are reusable and create a completely nonstick surface. They are made to line your cookie sheets to save you from having to scrub away excess food. The two sizes include a half sheet size (16.5" x 11 5/8") that fits most standard home baking sheet and a smaller size (11.5" x 8.5") that can be used with toaster ovens.

 

Not only do the baking mats keep your kitchen mess free, but they also help distribute heat evenly. They also work as great work surface for rolling out dough and making different kinds of candy recipes. I like they you don't have to worry about ruining the mats in the oven, fridge, or freezer. The only thing they can't handle is a sharp knife. Their versatility makes them an important piece of equipment for all bakers and cooks.

 

The tool set includes all the important baking tools: a whisk, a turner spatula, two batter spatulas, and a basting brush. The whisk is one of my favorites of the set because it actually has silicone on the balloon of the whisk unlike most other whisks on the market. This allows you to whisk directly in a pot or pan without worrying about scratching the surface. The batter spatulas are wonderful for scrapping the sides of a mixing bowl, folding ingredients into a batter, and much more. The turner spatula is used more as a tool to flip items while cooking. It is the perfect tool for removing cookies from the baking mat after baking. The basting brush can be used to apply an egg wash on pies, to coat ribs with barbecue sauce, or even to lightly grease a cake pan.

 

The baking mats can be easily cleaned with a light rinse under the sink. The tools are just as easy to clean. Since they are made from silicone, a light rinse will also do the trick, but they can be put in the dishwasher for an even easier cleaning experience. This set is essential for any novice or experience baker. The tools and baking mats are truly designed to last a lifetime.
Your Recently Viewed Recipes