Open Fish Pie with Coconut Twist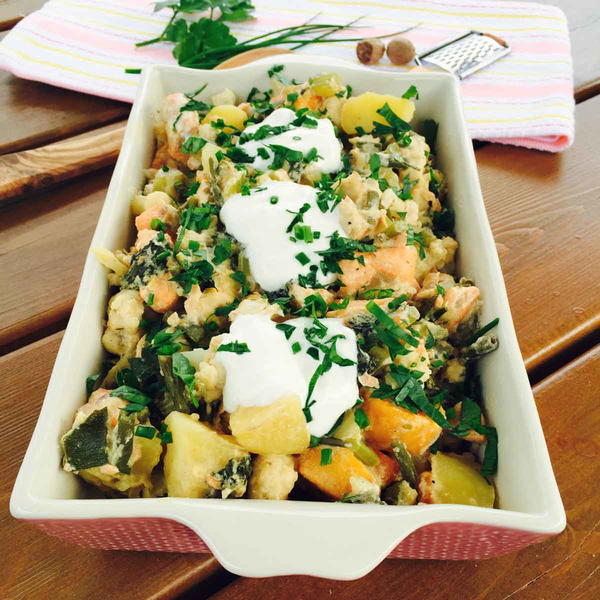 Open Fish Pie with Coconut Twist
"If you like fish, I'm sure you would enjoy a nice fish pie from time to time as much as we do….. I don't see why not, it is light, it is healthy and truly yummy. I am sure everyone goes through some time crisis sometimes and whenever this happens so I don't have that extra 30-40 minutes plus warming up time for baking or it is too hot outside to fancy puting an oven on or simply too tired for any fancy lengthy cooking."
Notes1. The fish mix you could use depends on when in the year you cook the pie, but in principle, use nice and seasonal fish. The smoked fish one should never be missed/omitted as it is the whole taste that adds to this recipe. 2. If you don't have green beans you may replace those with garden peas which can be either frozen or fresh. 3. 1/2 red pepper can be amazing addition if you have and like. Just cut into small cubes and add it.
Serves4
Ingredients
500 g fish (mixed: white fish, salmon, smoked haddock) cubed
1 onion (organic)
1 leek (organic)
1/2 courgette (organic) chopped
1 handful kale (organic)(optional) finely or roughly chopped
2 medium potatoes (organic) or large
1 small sweet potato (organic)
150 g green beans
2 small carrots (organic)
2 stalks celery
Put some water in a pot and boil the potatoes for five minutes, just to get them started. Not the sweet potatoes though. Leave aside until ready to use them.

In a separate pot maybe a deeper frying pan put the oil, the chopped onions and leek and sweat for 5 min or so. Add the green beans, the chopped carrots, the courgettes, celery stalks and the sweet potato chopped into small cubes, the kale and cook for 8-10 min on a medium heat stirring occasionally. Season well with salt,pepper and herbs of your choice, liking and availability.

Drain the potatoes of the water and add to the pie along with the fish cubes.

Add the coconut or the cow milk and cook for a good 8-10 min stirring a few times.

Add the double cream the nutmeg and cook on a really low heat for 5 min.

Serve hot and sprinkle some fresh herbs.
Your Recently Viewed Recipes