Vegetarian Pizza On Ciabatta Bread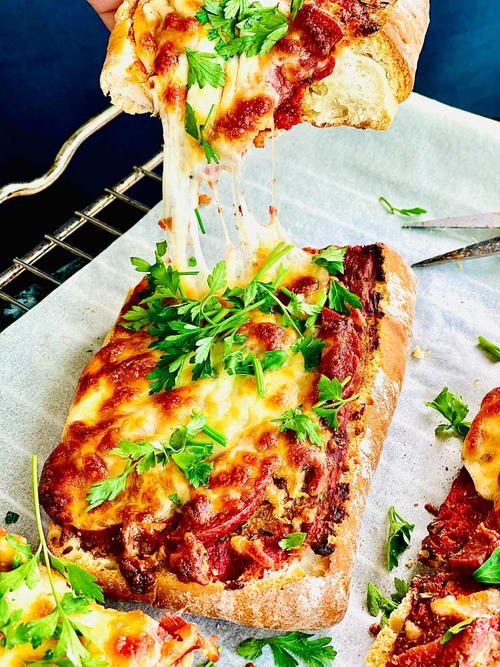 Vegetarian Pizza On Ciabatta Bread
"I thought I needed to cheer our day a little with something comforting and colourful. I've made this beautiful and very quick vegetarian pizza for brunch today as we were all pretty hungry (not sure why, as we are hardly doing anything! ). Here's this vegetarian pizza on ciabatta bread, ready in minutes. A quick vegetarian pizza using only a few ingredients like tomato sauce, cheese herbs, olives and ciabatta bread. Ready in no time and so tasty too. "
NotesIf you are using plain tomato sauce I always like to cook this with some chopped garlic and herbs and had a bit of salt and pepper. But if you are using pasta tomato sauce ready mate/food but then I want add anything to it
I enjoy this with some sriracha sauce or my totally irresistible chilli and ginger jam which I have to say it's a must have in the fridge at all time.
Of course if you fancy adding some chorizo, salami, ham or any other meats feel absolutely free to add as another layer over the tomato sauce.
Enjoy!
Serves4
Ingredients
2 ciabatta breads cut
200 g cheese grated * I used a mix of two cheeses
200 ml Tomato sauce like a bolognese sauce*
1 red onion small
12 Olives chopped ( optional)
1 tsp Italian herbs optional
4 tbsp parsley fresh – to garnish
Instructions
Warm up the oven at 190C – 375F and prepare a pizza or an oven baking tray by lining it with parchment paper.

Cut the ciabatta bread length wise and grill (cut facing down) in a pan for 2 minutes.

Chop some olives, one red onion (make it into rings)

Brush the bread with the tomato sauce with a generous layer (as generous as you like) add some herbs if you like to the tomato sauce (see my notes in recipe notes below)

Sprinkle the olives and the onions and place in the oven. Bake for 10 min at 190C.

Take out of the oven, sprinkle a generous layer of the blended grated cheese (I used half hard mozzarella and half mild cheddar). Place back in the oven and carry on baking for another 5-7 min approximately or until the cheese turns nice and gets a beautiful golden colour.

Take out of the oven, allow it to cool for a couple of minutes and serve whilst still nice and warm.
Your Recently Viewed Recipes