Mixed Grilled Veggies, Polenta and Chicken Casserole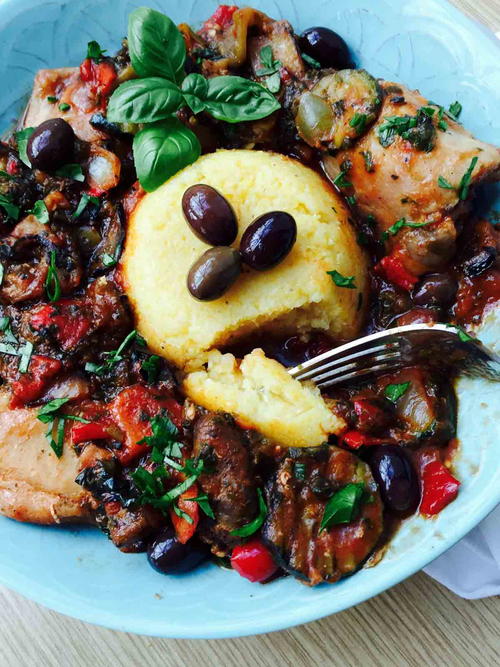 Mixed Grilled Veggies Polenta and Chicken Casserole
"Summer, summer, summer! I love summer in general but mainly because it is that vitamin refill. Isn't summer almost all about tones of vegetable intake? The taste of this mixed grilled veggies, polenta and chicken casserole is just divine. Of course you can choose to have it with no meat at all or swap the chicken for beef, pork lamb or even fish, for short have it with your favourite meat or copletely meatless. This is a vitamin packed dish containing tonnes of veggies and buckets flavour, a perfect dish for summer or any other time in the year. Superlicious."
NotesCooking time can be quite different depending on how you choose to cook the vegetables.

Char-grilled vegetables are sometimes available and can be found frozen ready grilled supermarkets so look out for them as they will save you a long journey having to cook them from scratch. The result is as delicious! I do buy sometimes a frozen readdy grilled vegetable mix which contains these exact veggies.


Serves6
Ingredients
Ingredients to prepare the chicken casserole:500 g chicken thighs
2 courgettes
2 aubergines
2 onions (red or white)
2-4 red peppers
500 ml passata (or any tomato juice or chopped ones canned or fresh)
2-3 tbsp olive oil
100 g Kalamata olives
2 springs thyme (fesh or dry)
2 tsp himalayan salt
Instruction
Wash and chop all vegetables. Put them into a big tray/bowl. Sprinkle some olive oil and salt over them.

Using a griddle pan or charcoal BBQ (best taste) grill all vegetables. **

Cook the chicken either in a pan or on BBQ.

Place a pot with the water for the polenta on medium/high fire, add the salt and allow to boil.

Separately, place a deep frying pan over medium heat, put a tbsp of olive oil and put all grilled vegetables in. Cook them covered with some salt on low fire sprinkling water from time to time so that they don't stick to the pan. Cook for 5 min.

Add the Passata, mix well and cook for 15' from boiling point on low fire. Cook covered for 10 min and uncovered for 5. Add the olives in the last 2 minutes of cooking so they just about release a little bit of flavour but don't really get to cook. Don't worry if you forget just add them at the end.

While the casserole is simmering away, let's go back to our lovely polenta. When the water for the polenta is boiling, add the chopped thyme or rosemary and then the polenta flour while stirring gently until it all homogenizes. Continue to stir for about 2 minutes and then allow to cook for 2 minutes. Repeat this 3-4 times and then take out on a plate.

When casserole is ready and most juices have reduced down is ready so turn heat off, add the finely chopped garlic stir for 10 seconds and sprinkle some chopped parsley.
Your Recently Viewed Recipes