10 Copycat Panera Soup Recipes
From creamy tomato soup paired with grilled cheese to the classic autumn squash soup and even their famous bread bowls, these soups are the best of the best.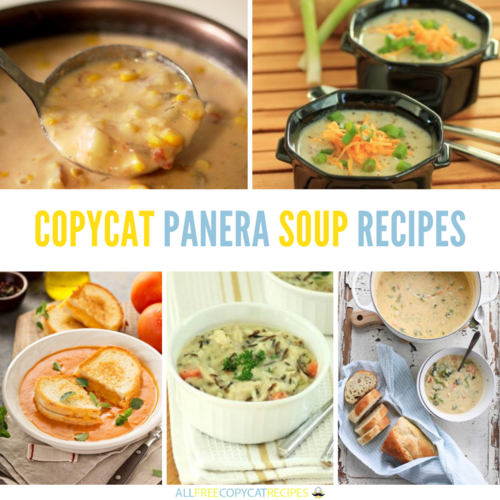 Panera Bread has some of the best soup recipes around. They rotate their menu every day, but a few classics, such as the broccoli cheddar soup, are always available. In this list of 10 Copycat Panera Soup Recipes, the editors of AllFreeCopycatRecipes have rounded up our favorite copycat recipes for Panera's warm and comforting soups. We even have a bread bowl recipe that you can make to give your homemade Panera soups the perfect finishing touch.

There is nothing quite like a warm, homemade bowl of soup to put you and your family in a good mood. These delicious soup recipes are easy and delicious. You can't beat that.
Easy Soup Recipes
Panera Copycat Creamy Tomato Soup
Look no further for a delicious tomato soup recipe. Our Panera Copycat Creamy Tomato Soup recipe is the ideal mix of light cream, tomato, and basil flavors. This copycat recipe perfectly recreates this classic soup. The best part about this recipe is that it only takes thirty minutes to make!

Get the recipe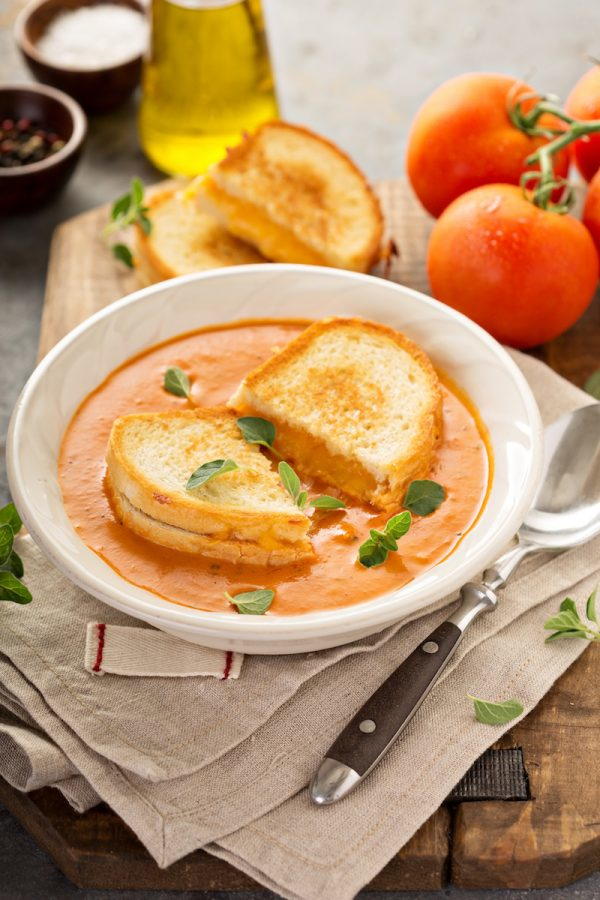 Copycat Panera Broccoli Cheddar Soup
This copycat Panera recipe is loaded with chunks of broccoli mixed into rich, cheesy, and creamy homemade soup. The broccoli and cheddar soup is possibly Panera's most popular soup recipe. Make it tonight for an easy weeknight meal that includes some heart-healthy veggies.

Get the recipe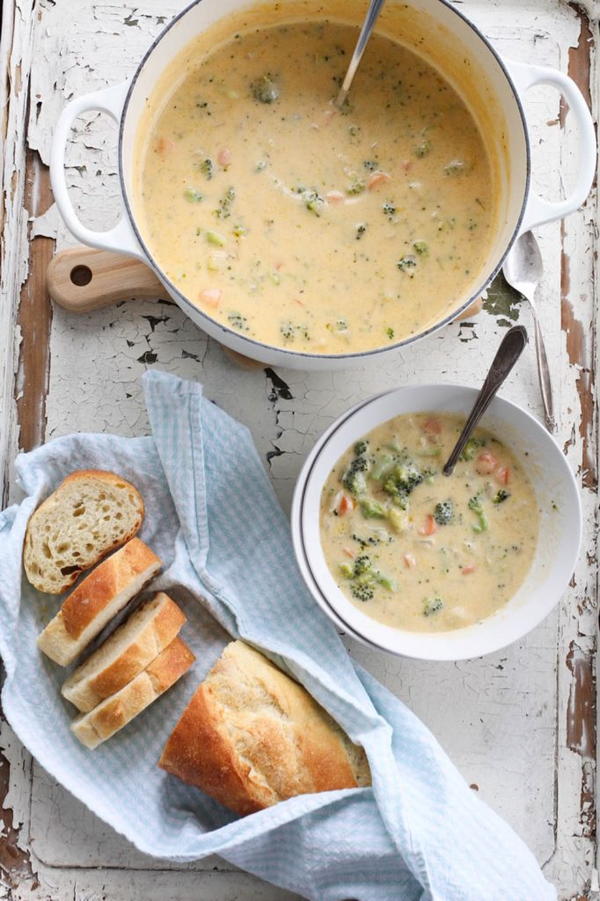 Copycat Panera Cream of Chicken and Wild Rice Soup
The recipe for this cream of chicken and wild rice soup recipe is very easy to follow and can be cooked up in no time. Everyone at the table is sure to be happy with this soup. It is creamy, warm, and delicious. It's the perfect way to stay warm on a cold fall evening! It's great for when you just want a nice, relaxing night inside to stay out of the cold.

Get the recipe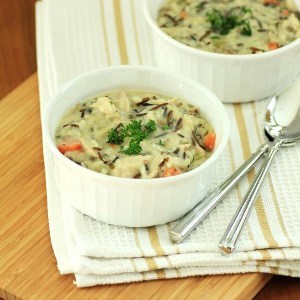 Copycat Panera Baked Potato Soup
We think this Copycat Panera Baked Potato Soup recipe will warm your soul even on the chilliest days. This irresistible baked potato soup recipe is famous for its velvety and creamy texture. The potatoes make it nice and filling, and it tastes exactly like a baked potato. Dress this soup up however you like, and you'll have a deliciously easy dinner that everyone in your family will absolutely love.

Get the recipe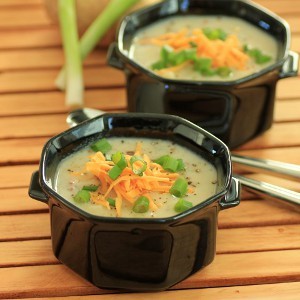 Panera Autumn Squash Soup Copycat Recipe
This butternut squash soup has hints of cumin, curry, and cinnamon. The pumpkin that is added to the soup creates another depth of flavor. The cream gives the soup extra richness but can be left out if you want to make it dairy-free. This recipe was created in our very own Test Kitchen.

Get the recipe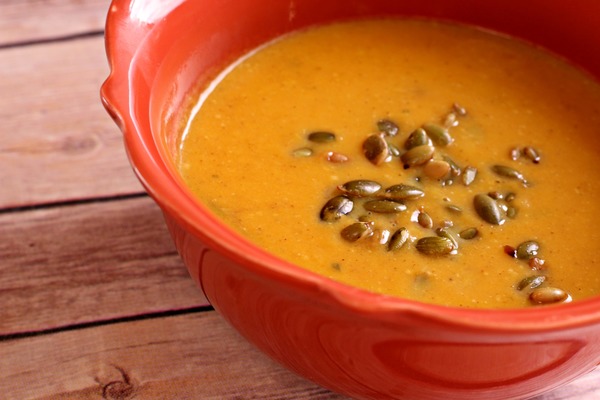 Copycat Panera Bistro French Onion Soup
This Copycat Panera Bistro French Onion Soup is a cheesy delight. This Panera soup copycat recipe is loaded with caramelized onions, thyme, and basil to bring out the distinctive flavors of French onion soup. Beef broth, sherry, and a touch of balsamic vinegar work together to give the onion soup a robust and bold taste.

Get the recipe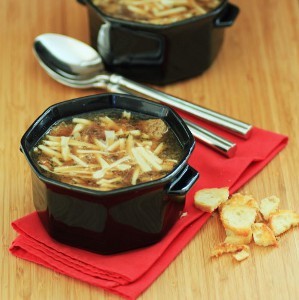 Copycat Panera Summer Corn Chowder
This homemade version of Panera's summer corn chowder soup is a tasty copycat recipe that can be made with a few handy shortcuts. This delicious soup usually only appears for a limited time on Panera's summer menu, so this copycat version is a great way to enjoy this yummy soup all year!

Get the recipe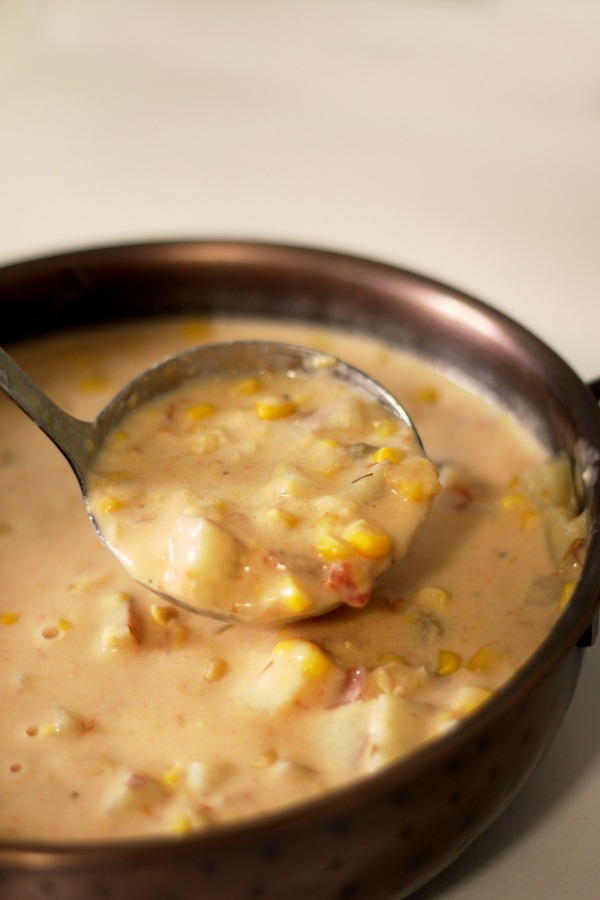 Slow Cooker Chicken Barley Soup
You're in luck! This slow cooker chicken barley soup recipe is just what you've been looking for. This is a great meal to make before your day gets too busy. After a few hours in the slow cooker, you'll have a delicious meal ready for dinner time.

Get the recipe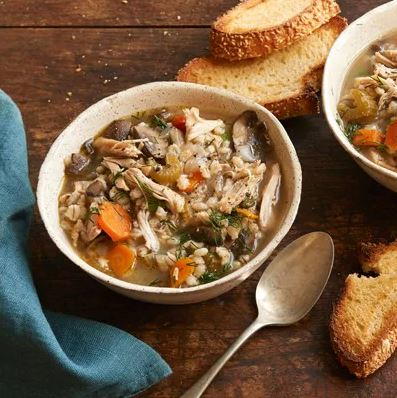 Copycat Panera Soba Noodle Recipe
This soba noodles recipe tastes like it came right from Panera itself. Each ingredient of this Copycat Panera Soba Noodle Recipe is absolutely delicious and packed with flavor. Instead of meeting up for lunch at a restaurant, invite your friends over for some homemade soba noodle soup that will truly impress.

Get the recipe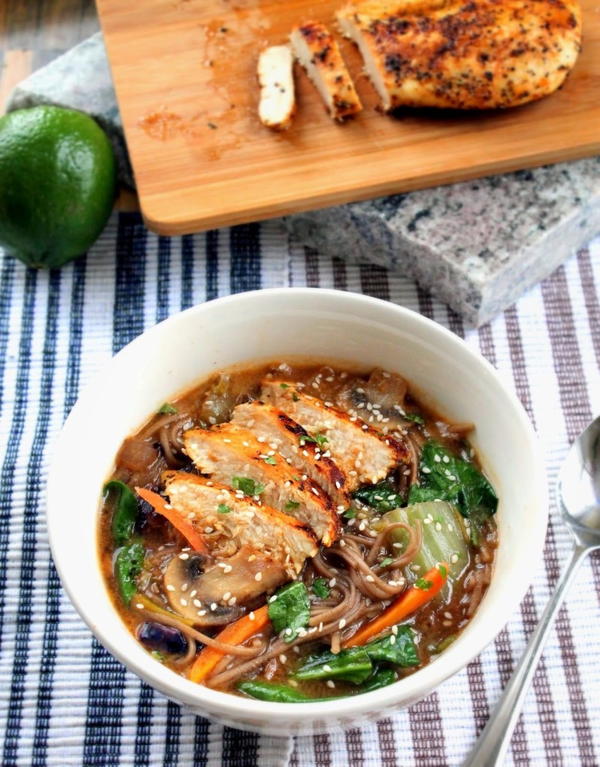 Panera Cream Cheese Potato Soup Copycat
This Panera Cream Cheese Potato Soup Copycat recipe is ridiculously easy to make and tastes just like the version found at your local Panera Bread. This Panera soup recipe is the ultimate in comfort food. A bowl of this simple, but scrumptious, potato soup is all you need to warm up on a chilly day.

Get the recipe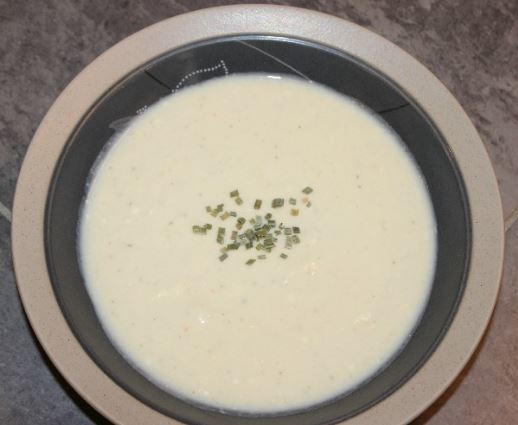 Bonus: Copycat Panera Bread Bowls
Classic Bread Bowls
Pumpkin Bread Bowls
What Panera soup recipe does your family love?
Let us know in the comments!
Your Recently Viewed Recipes