Homemade Outback Steakhouse Walkabout Soup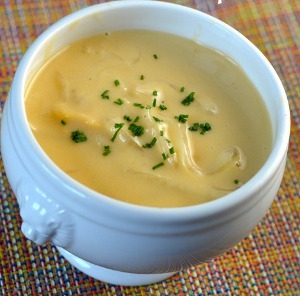 Homemade Outback Steakhouse Walkabout Soup
This Homemade Outback Steakhouse Walkabout Soup recipe is unlike any other soup you have tried before. The famous Outback recipe is a creamy and cheesy onion soup. The best part of this recipe has to be the fact you can make it with common pantry ingredients. It's a unique twist on classic flavors enjoyed all around the world.

Thinly sliced sweet onions are combined with Velveeta and a white sauce. This onion soup is nothing like French onion soup, but is more of a reinvented American onion soup! This is a great soup to serve as a starter at a dinner party or as a meal for a cold, winter day. Whatever the occasion, it's a quick and easy copycat that'll always leave you going back for seconds.

Sign Up for More Free Copycat Recipes!
Serves4 People
Your Recently Viewed Recipes