Bang Bang Chicken Copycat
A beloved cheesecake factory recipe that's easy to make at home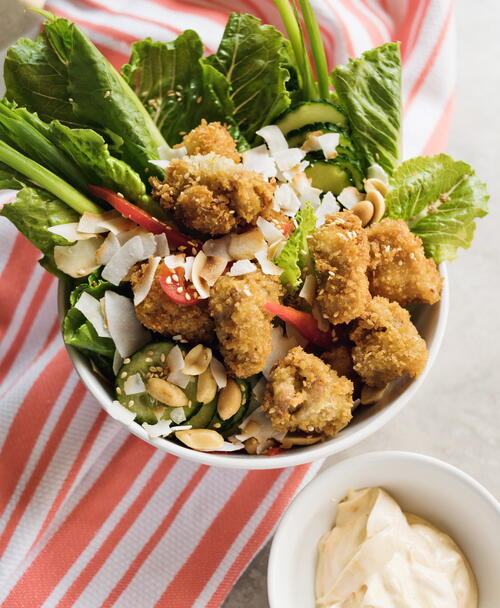 Bang Bang Chicken Copycat
From the author: "Upon first glance, this recipe, inspired by one of my favorite Cheesecake Factory apps, may seem as if it has a lot of ingredients and steps, but the battered chicken and the dressing can all be done in advance."

That's a good thing, because a recipe this spectacular is going to be on your mind a lot from now on! Whether you need a top-notch appetizer to impress your guests or you're looking for a way to make your weeknight entree extra special, this recipe is the perfect choice. 

Even better: if you're short on time, it's easy to strip away the extras and focus on the chicken itself. You can go all out and make a truly impressive dish or you can strip the recipe down to the bare necessities and still have a fantastic chicken app ready to help you indulge your copycat cravings.

Sign Up for More Free Copycat Recipes
Serves4
Ingredients
1 cup buttermilk
1 large egg

3

/

4

cup all-purpose flour

1

/

4

cup cornstarch
2 tablespoons sriracha

1

/

2

teaspoon curry powder

1

/

4

teaspoon kosher salt
1 pound boneless, skinless chicken breasts or thighs

1

/

2

cup mayonnaise
3 tablespoons sweet chili sauce
2 tablespoons honey
1

1

/

2

tablespoon sriracha
3 teaspoons fresh lime juice
1 teaspoon curry powder
1 head romaine lettuce

1

/

2

cup salted dry roasted peanuts

1

/

2

cup unsweetened shredded coconut
2 tablespoons sesame seeds
4 green onions
1 small cucumber, thinly sliced

1

/

2

cup red bell pepper, thinly sliced
2 cups peanut oil or vegetable oil
2 cups panko bread crumbs
Instructions
For the chicken: In a large bowl, combine the buttermilk, egg, flour, cornstarch, sriracha, curry powder, and salt and mix well. Add the chicken pieces and set aside.

For the dressing: In a medium bowl, combine all the dressing ingredients. Set aside, or chill for up to 1 day.

For the salad: Chop the romaine into bite-size pieces, reserving 4 larger leaves for garnish.

In a dry skillet, separately toast the peanuts, coconut, and sesame seeds over medium heat until each is light golden brown and fragrant, 3–4 minutes. Place the chopped lettuce in the bottom of a large bowl and arrange whole leaves and cucumbers around the edge of the bowl.

For frying: In a deep skillet, heat the peanut oil to 350ºF or until a piece of chicken bubbles furiously when dropped into the oil. Remove the chicken from the batter and toss it in the panko until well coated. Cook about half the chicken at a time in the hot oil, turning to brown all sides, for about 4 minutes. Drain on paper towels and repeat with the remaining chicken.

Trim the green onions, leaving some of the green tops on. Place the hot chicken pieces over the lettuce in the serving bowl and decorate the bowl with the cucumbers, green onions, and strips of red bell pepper. Serve with the dressing and sprinkle the peanuts, coconut, and sesame seeds on top; serve immediately.
Your Recently Viewed Recipes