Copycat Applebee's Smothered Steak Skillet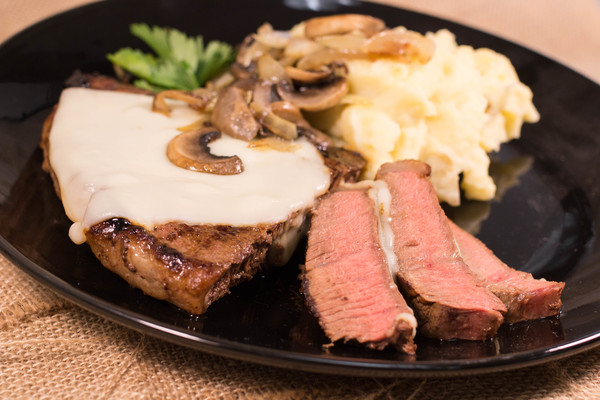 Copycat Applebee's Smothered Steak Skillet
If you're looking for a wonderful dish among restaurant recipes, you've found one with the Copycat Applebee's Smothered Steak Skillet recipe. A tasty piece of steak is matched with a garlic mashed potatoes recipe and sauteed mushrooms. A layer of cheese coats the steak, making it over-the-top divine! There is no need to spend a bunch of cash at the restaurant, when it is simple to recreate this meal at home. This is a cozy dish that will satisfy all your red meat cravings. The garlic potatoes are perfectly creamy and are the perfect complement to the seasoned steak. The sauteed onions and mushrooms are a delicious side. This dish is topped with mozzarella cheese, making it excellently cheesy and tasty.

For some handy tips and tricks for preparing steak, be sure to check out How to Make Restaurant Style Steak at Home! 

Sign Up for More Free Copycat Recipes
Ingredients
For the Potatoes:
1 head garlic
1 tablespoon olive oil
2 pounds potatoes (Yukon Gold or New Road)

1

/

2

cup milk

1

/

4

cup cream
3 tablespoons butter
salt and fresh ground pepper to taste
For the Onions and Mushrooms:
1 large yellow onion
8 ounces white button or cremini mushrooms
2 tablespoons butter
For the Steak:
2

1

/

2

pounds sirloin steak, 1 inch thick
8 slices mozzarella cheese
Instructions
Preheat oven to 400 degrees F. Cut the garlic crosswise and lay on a piece of foil. Drizzle cut edges with the olive oil and wrap tightly in the foil. Bake for 30 minutes. Reserve the oil in the packet and squeeze the head to produce the softened cloves. Mash with salt and pepper and set aside. (Can be done ahead).
 
Cut potatoes into 1 inch pieces and place in a large pot. Cover with water and bring to a boil, then lower heat to medium and cook for 20-25 minutes until potatoes are soft when tested with the tines of a fork. Drain well and place potatoes into large bowl of an electric mixer fitted with the paddle attachment. On low speed mash potatoes, slowly adding the milk, cream, butter and then the olive oil/garlic mixture, until fluffy and smooth. Cover and keep warm until ready to serve.
 
While potatoes are boiling, place olive oil into a medium non-stick skillet over medium low and cook onions until slightly softened, stirring frequently for about 15 minutes. Add mushrooms and raise heat to medium, stirring frequently for another 10 minutes. Keep warm until ready to serve.
 
Cut the steak into 4 serving size pieces. Rub the steaks with the olive oil on all surfaces. Heat an outside grill or stovetop grill pan and grill steaks 4 minutes per side for medium rare, or longer as desired. After the first 4 minutes, turn and top each steak with mozzarella slices –the cheese will melt as the steak finishes cooking.
 
Serve the steaks with the potatoes and topped with some of the onion mushroom mixture.
Your Recently Viewed Recipes