20+ Valentine's Day Dessert Recipes for Your Sweetie
Your special someone will love these delicious copycat dessert recipes for Valentine's Day!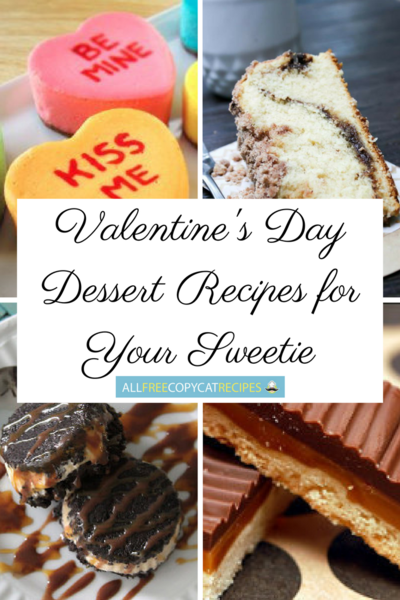 With Valentine's Day just around the corner, you might be looking for dessert ideas to share with that special someone! Whether you're looking for a recipe for fudge, cheesecake, or even brunch, this collection of 20+ Valentine's Day Dessert Recipes for Your Sweetie includes an assortment of desserts to try. Whether you're in the mood for chocolate, dulce de leche, or other sweet desserts, you're sure to find just the right recipe in this collection. In addition, these copycat recipes are also a fun way to replicate desserts from your favorite restaurants right in the comfort of your own home. Each recipe in this collection is special and decadent, too, and will stand out from your usual go-to desserts.

Many of these copycat dessert recipes are also perfect gift ideas for that special someone. After all, who wouldn't want to receive a package of homemade candies or dessert bars? If you want to go all-out this year by planning an unforgettable occasion, then these Valentine's Day recipes need to be on your radar. With just a little bit of planning, you can make a dessert that will be requested all year!
Table of Contents
Copycat Dessert Recipes for Breakfast
You don't need to wait all day to serve something sweet to your sweetheart! If you want your loved one to rise and shine, then you will definitely want to put dessert for breakfast in your Valentine's Day plans. These recipes are as sweet as can be and will be a wonderful way to start your morning. With these copycat breakfast recipes by your side, you can whip up some new and delicious sweet recipes without changing out of your pajamas. Simply serve these desserts with a fresh pot of coffee or tea, and breakfast will be ready to eat!
Dessert Bars and Fudge
While you can almost never go wrong with a package of chocolates purchased from a favorite store, consider going the extra mile for your sweetheart by making your own dessert bars or fudge for Valentine's Day. If you'd like to make these desserts even more special, then consider storing them in a colorful airtight container. Simply set a sheet of waxed paper between each layer of dessert bars or fudge. That special someone will enjoy these copycat versions of their favorite sweets.
Copycat Recipes for Cakes, Cheesecakes, and More
When it comes to Valentine's Day dessert ideas, the more decadent the recipe, the better! These copycat recipes for cakes, cheesecakes, and more will be the perfect end to just about any meal that you have planned. Whether you whip up mug cakes for two or bake a cheesecake from scratch, your loved one is sure to appreciate the effort. You will even discover a few copycat recipes for special dessert sauces and ice cream in this section! Roll up your sleeves and get baking with these easy Valentine's Day dessert recipes.
What is your favorite Valentine's Day dessert? 
Tell us in the comments below!
Your Recently Viewed Recipes