Luscious Wild Garlic And Nettle Soup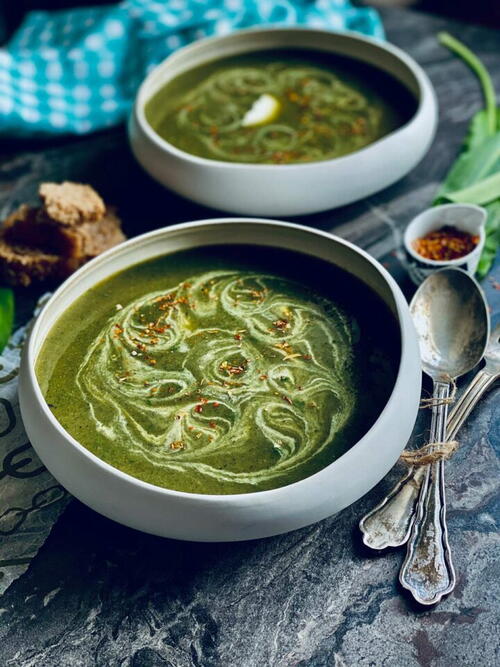 Luscious Wild Garlic And Nettle Soup
"Wild garlic and nettles soup is a must make delicious green spring dish. Stinging nettles are spring's most foraged wild edibles. I always make the most of these while in season and I certainly cannot get enough of them. Stinging nettle and wild garlic soup is an amazing nutritious soup with amazing properties and can be eaten as an appetizer or served as a dinner, together with bread. You can also freeze the soup and save it for later. "
Serves4
Ingredients
400 g young nettles (14.11 oz) stinging nettles (fresh or frozen)*
200 g wild garlic leaves ( 7 oz) freshly foraged or frozen
2 medium onions chopped
1 tablespoon olive oil
1 large leek diced roughly
2 sticks celery roughly sliced
1 medium carrot roughly diced
1.5 litre vegetable stock I have used homemade unsalted
1 medium potato optional
1 teaspoon salt
Prepare the nettles and if these aren't super young, remove the nettle stems using gloves or cut them off using scissors.

Wash the nettles thoroughly in a super large bowl or container. I sometimes use the sink to wash them. Most of the time just a rinse is not enough. Do the same with the wild garlic leaves.

In a soup pot, heat up olive oil and butter if using, add the chopped onion, leek, carrot, diced celery sticks and cubed potatoes. Cook for a good 10 minutes.

Pour in the stock and thyme. Bring all to a boil. Allow it to simmer for 10 minutes.

Add the nettle leaves and boil for a further 2 minutes. Fish out the thyme sprigs from the soup. Add the roughly chopped garlic leaves and simmer for 2 more minutes.

Blend all the ingredients with a hand blender so it becomes a smooth soup.
Your Recently Viewed Recipes